UV Transmission Gratings
rong>UV Transmission Gratings Provide Excellent Light Dispersal for Fixed Grating Applications

Designed for 250-450 nm wavelength range

Barrington, N.J. - Edmund Optics (EO), the premier provider of optical components, introduces new UV Transmission Gratings. These versatile gratings feature a UV grade fused silica substrate. UV Transmission gratings are relatively polarization insensitive and are fairly impervious to alignment errors, for outstanding ease of use in a wide variety of fixed grating applications.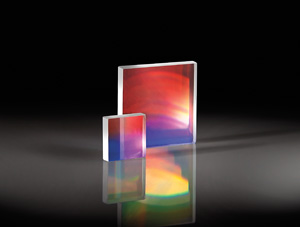 UV Transmission Gratings are an elegantly simplistic method of dispersing light for fixed grating applications in the 250 - 450 nm wavelength range. Manufactured from a UV grade fused silica substrate, the gratings are designed for the incident light to strike the UV Transmission Gratings' coarse groove spacing, where it is then dispersed to the opposite side of the grating at a fixed angle. As the groove spacing increases, the diffraction angle decreases.

Multiple diffraction angles available

UV Transmission Gratings are available in multiple diffraction angles. Models are offered with 300, 600, 830 and 1200 grooves/mm in three different sizes, including 12.7, 25 and 50 mm Sq. UV Transmission Gratings are in-stock and available for immediate delivery for fast turnaround and excellent value.

About EO

Edmund Optics® (EO) is a leading producer of optics, imaging, and photonics technology for R&D, electronics, semiconductor, pharmaceutical, biomedical, and military markets around the globe. EO is the world's largest supplier of off-the-shelf optical components. Customers can purchase items by contacting EO at (800) 363-1992, via the new interactive catalog , the website, or requesting their print catalog.

Company Contact:
Kirsten Bjork-Jones
Director Global Marketing Communications
Phone: 1-800-363-1992