Utilizing Additive Manufacturing in a Production Environment
Additive manufacturing, commonly known as 3D printing, is the process of creating a part one slice at a time. It is the opposite of subtractive manufacturing processes such as traditional milling or turning, where a component is made by removing material from a larger piece of material.
Utilizing Additive Technologies in Manufacturing
For applications requiring consistent quality in low volume production, powder-based processes such as SLS for plastics (selective laser sintering), and DMLS for metals (Direct Metal Laser Sintering), produce parts that are more consistent and isotropic than some other 3D printing processes. The material options available when using these technologies also aligns better with production requirements. In addition to SLS and DMLS, the introduction of Digital Light Projection (DLP) technology has created additional options. Companies such as Carbon 3D have been able to produce production parts with advanced photopolymer materials and have seen success in the footwear market.
For production applications that require higher volumes at lower cost, HP's newly introduced Multi Jet Fusion (MJF) technology is creating an opportunity for companies like Onvio to take advantage of additive manufacturing in a more effective way. MJF produces high quality, isotropic parts, in production grade materials, at up to 10 times faster speeds than comparative technologies (SLS).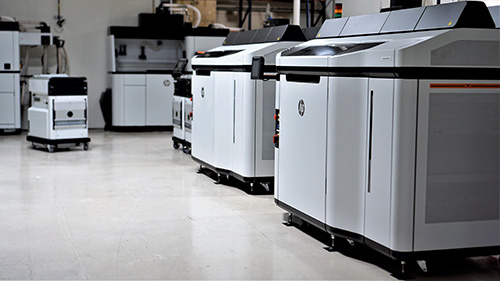 At Onvio, these advances in 3D printing have enabled faster product development when designing and manufacturing custom solutions, as well as opening the door to previously inaccessible designs . Geometries that were previously only achieved with castings or molds, or in some cases not achievable at all, can now be quickly and affordably realized.
When looking to utilize 3D printed parts for prototyping, or production, there are still some gaps between what can be produced with traditional machining from solid materials and 3D printing. This however does not mean that 3D printing cannot aid in the production of traditionally machined parts. The ability to print 1:1 models that are dimensionally accurate can have a tremendous impact on the DFM process. Giving programmers and process engineers the ability to hold a part in their hand, before ever having to cut metal, has proven to save significant time and avoid costly errors. In an industry that prioritizes speed and forward momentum, this is an invaluable advantage.
When is Additive Manufacturing Cost Effective?
Until recently, 3D printing has only added value for applications and projects dealing with small quantities, highly complex geometries, and fast approaching deadlines. 3D printed components have been viewed primarily as place holders, while designs are conceptualized, and production tooling is finalized. In some cases this is still a reality, but for many others the effectiveness of 3D printed parts being a realistic option for production applications is expanding rapidly. Products that previously required large volume commitments to justify tooling and setup costs can now be produced in quantities which were previously not financially feasible for many organizations. Recent improvements in the cost and effectiveness of 3D printing is opening the door to create products and technologies that otherwise may not exist due to financial restrictions.
With the reduction, and in the future, potential elimination of expensive tooling traditionally required for producing production quality parts, additive manufacturing allows for greater complexity in designs. As well as shortens the product development cycle by enabling engineers to prototype designs rapidly while using the same processes and materials they will utilize in production.
About Onvio
For over 35 years Onvio has manufactured high precision components and solutions for the automation, robotics and motion control industries. Our ability to manufacture high precision components and systems is driven by our outstanding employees and their commitment to team work. Their resolve to satisfy customers and innovate with the goal of solving real world problems, is what makes us Great People in Motion.