Upgraded QUARTZ Family for Full Advantage of State-of-the-Art CMOS Sensors
rong>High-resolution combined with high-speed cameras to increase accuracy and throughput of inspection and metrology systems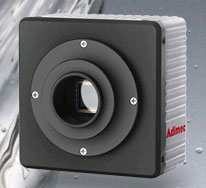 EINDHOVEN, the Netherlands - Adimec, a world leader in application-specific, leading-edge industrial camera solutions, announces the upgrade of their successful CMOS-based QUARTZ series. The QUARTZ area scan cameras are the industry's first to support a dual CoaXPress interface. Adimec's QUARTZ cameras are used in many demanding inspection and metrology systems and to better fulfill their increased latest requirements, we upgraded the series with improved image quality and reduced power consumption.

This and other included developments to the QUARTZ series are:
• Improved frame-to-frame stability by a factor of 2.5
• More Flat Field Correction sets to support True Accurate Imaging®
• Reduced power consumption by about 2.5W
• More efficient implementation of the dual CoaXPress interface
• Support for higher resolution image sensors (e.g. 8 MP and greater)
• More flexibility for customization options

The QUARTZ series includes one 2 MP model and two 4 MP models. Both resolutions are available with a Camera Link or a dual CoaXPress interface. All members of the QUARTZ series combine proven global shutter CMOS technology with the proprietary Adimec True Accurate Imaging® approach. This results in CCD-like image quality with unmatched speed.

The models with CoaXPress transmit 180 frames per second (FPS) at a 2048 x 2048 resolution with 10 bits per pixel over two standard coaxial cables for lengths over 60 meters without repeaters.

The full frame rates can also be achieved over Camera Link and other interfaces as well. The QUARTZ cameras include buffered image pipeline technology where the data stream from the sensor is decoupled from the data stream on the camera interface.

At the Vision International Trade Fair for Machine Vision in Stuttgart, Germany, November 6-8, 2012, we will exhibit the upgraded QUARTZ series. In Booth number 1G68, we will demonstrate the Q-12A65, which is a 12 Megapixel camera with 66 fps over Camera Link using the latest CMOSIS CMV12000 sensor.

About Adimec
Adimec specializes in the development and manufacturing of high-performance cameras that meet the application-specific requirements of key market segments, including machine vision, medical imaging, and outdoor imaging. Founded in 1992, the company partners with major OEMs around the world to facilitate the creation of industry-leading cameras. Its products meet a wide range of performance, size, cost, interface and application requirements and its Adimec True Accurate Imaging® technology provides new levels of precision and accuracy to vision systems. Adimec has offices around the world focused on creating customer value and satisfaction through local, personalized support.