Upcoming Fall Events Focused on Safety and Collaborative Robots
The Robotic Industries Association (RIA), will host two major events in Pittsburgh this coming October. The 27th National Robot Safety Conference will be held October 12-14, 2015 followed by the International Collaborative Robots Workshop on October 15. Both events will be held at the Omni William Penn Hotel in Pittsburgh, Pennsylvania.

The National Robot Safety Conference is the world's leading event for industrial robot safety and compliance. It provides in-depth coverage of the latest ANSI/RIA R15.06 -2012 Robot Safety Standard and risk assessment issues as well as functional safety, safety circuit design and a look at various applications. The conference also includes a tabletop exhibit featuring leading companies specializing in industrial robot safety.
"Safety is priority one for the robotics industry," said Jeff Burnstein, President of RIA. "This annual conference provides essential training on issues related to safeguarding all types of robot applications."
Collaborative robots, or robots that work side by side with humans, is the hottest topic in robotics today. The International Collaborative Robots Workshop will explore advancements in the field with a global view on collaborative robot technology, applications, safety implications and human impacts.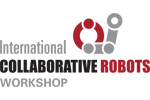 "We've had very strong interest at our previous International Collaborative Robots Workshops from major user companies who want to learn how this new class of robot can help them become stronger global competitors," Burnstein said. "We'll feature presentations from top experts in the field as well as a look at many of the leading collaborative robotics products."
Burnstein noted that RIA is offering discounts to people attending both workshops. "Safety is critical in collaborative as well as traditional robot applications, so we decided to hold the two events back to back to make it easy for people to attend both."
Visit the event pages on Robotics.org for full conference details.
Interested in exhibiting or sponsoring? Contact Laura Messing at 734-994-6088.