University Outreach: 'Servo Drives 101' - Free servo drives contest from ADVANCED Motion Controls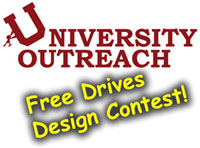 ADVANCED Motion Controls is pleased to announce an educationally focused contest called 'Servo Drives 101'. This contest is an extension of our incredibly popular 'University Outreach' program. In this contest, selected servo drives are being offered completely free of charge for the purpose of advancing motion control knowledge as provided by educational institutions located throughout the U.S.A. and Canada.

Universities today are tasked with preparing students for the real world. Automation in many forms has become a major factor in today's factories, processes, systems, machinery and equipment. Applying the basics of Physics, Mathematics, Mechanics and Electronics is key to not only proving out theories but also putting them to practice. This contest is designed to allow multiple entrants to acquire hardware free of charge toward this pursuit. Simply identifying project descriptions could lead to free servo drive hardware. Proving out motion control concepts can take an inordinate amount of resources. Therefore, eliminating some of the financial burdens through the 'Servo Drives 101' contest can help to reduce this overall challenge.
Students, student groups, school club members, laboratory personnel, professors, academic researchers, etc. should all apply to the 'Servo Drives 101' contest for award consideration. To qualify, simply provide proof of responsibility for utilizing servo drives to increase the understanding of motion control technologies or by showing an application need for servo drives in coursework or related research projects. Multiple servos drives in various architectural configurations and capabilities are available.
Contestants are required to submit an official request through our web site at www.a-m-c.com. Look for the 'Free Drives Design Contest' logo which will guide participants to the 'University Outreach: Servo Drives 101' contest web page. Complete rules and a list of servo drives are readily reviewable. All entries must be submitted on or before November 15th, 2007 and winners will be announced on December 1st, 2007 based on committee's assessment of need and description. It is anticipated that many winners will be selected.
ADVANCED Motion Controls is proud to support the needs of education and continues to be a resource even beyond this contest. For more information, contact Karl Meier, Marketing Manager, ADVANCED Motion Controls at (805) 389-1935 or visit our web site at www.a-m-c.com and look for the 'University Outreach' program.