Universal Robots Topples Tradition at RoboBusiness
At RoboBusiness Silicon Valley, Universal Robots' CTO Esben Østergaard will present how a small Danish company became the successful industry pioneer of collaborative robots that can operate alongside employees without safety guarding.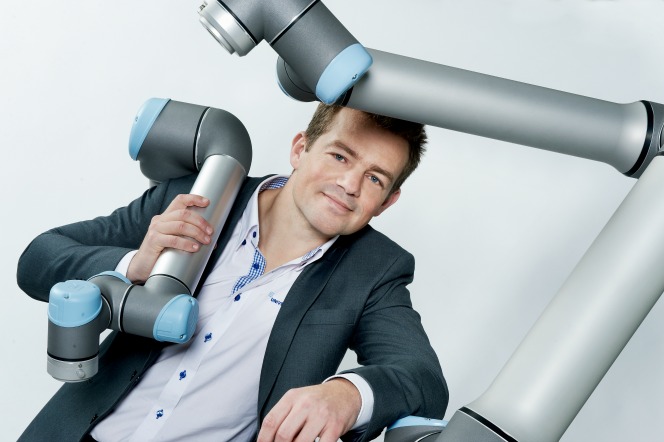 Stony Brook, New York, October 14, 2013: The global achievements of Universal Robots hav
e proven that collaborative robots are here to stay; Within the last year, the company has opened subsidiaries in China and North America, doubled revenue and employees, seen Volkswagen and BMW integrate the
robots into mass production, and expanded distribution networks into a total of 50 countries worldwide.

On October 23-25, Universal Robots will demo the collaborative robots at
booth 525
at RoboBusiness in Silicon Valley. At
this leading business development event for the global robotics industry, the
CTO and founder of Universal Robots, Esben Østergaard, will also share with the audience how the Danish robot manufacturer saw a market opportunity and acted.

Østergaard co-founded Universal Robots after realizing that while all robots are not created equal, what they do have in common is that most are large, expensive, unwieldy, and potentially dangerous.
"That's a challenge for end users of robotics technology, as well as a problem for the entire robotics community," says Østergaard, who addressed the shortcomings of traditional industrial robots by developing a collaborative robot—a highly-specialized, low-cost robot that can work alongside employees with no safety guarding.
In his RoboBusiness presentation
Toppling Tradition: Making Robots Small, Cheap, Dexterous, and Friendly
, the Universal Robots CTO will present how the small Danish startup didn't initially take market shares away from traditional robots but succeeded in creating a whole new market by targeting the SMB sector that never thought they'd be able to integrate a robot in production due to cost and complexity.
"
Small and medium-sized businesses makes up 90 percent of the global industry," says Østergaard. "These companies have a considerably lesser degree of automation compared to the large industry conglomerates and this is where we outperform other products on the market when it comes to flexibility, precision, and ease of use."


Being able to automate repeated, monotonous tasks has created some remarkable results for the SMB users of UR robots. At the faucet maker RSS Manufacturing & Phylrich in California, a UR5 robot is now moved between CNC machines, assembly lines, and tube benders. CEO of RSS Manufacturing & Phylrich, Geoff Escalette, explains how a new monthly order to produce 700 valves prompted the search for a new automation solution:


"Our CNC machine can normally produce 400 valves per month in two shifts, so we would have been forced to buy another machine even if we put a third shift on," says Escalette. "With the higher run-rate using the UR5, that was unnecessary. We put the robot to work 24/7 and met the order in 11 days while opening up 30 percent more capacity on existing machinery."


Another successful UR5 deployment at the California faucet maker was a tube bender application. When operated using manual labor, the tube bender would take 2-3 days to bend 1,500 units. The UR5 machine did the job in four hours.


Universal Robots' National Sales Manager in North America, Ed Mullen, says the UR robot's production results at RSS are similar to what he now experiences when visiting end users all over the continent:


"The applications run the gamut from pick & place tasks, machine tending, assembly, and packaging," says Mullen. "The entire manufacturing world is looking for a change. We're now seeing that companies are able to bring manufacturing back to the U.S. due to the UR robots' ability to optimize production."
Since launching in North America at the IMTS tradeshow in September of last year, Universal Robots has created a distribution network of 16 distributors now providing full coverage of both Canada and USA.


T
he robots:

Universal Robots is a result of many years of intensive research in robotics. The product portfolio includes the
UR5
and
UR10
models that handle payloads of up to 11.3 lbs. and 22.6 lbs. respectively. The six-axis robot arms weigh as little as 40 lbs. with reach capabilities of up to 51". If the robots come into contact with an employee, the robot will automatically stop operating. The force delivered in the collision does not cause bodily harm, adhering to the current safety requirements on force and torque limitations. Repeatability of+/- .004" allows quick precision handling of even microscopically small parts. The collaborative robots can quickly be moved around the production sites and are easily integrated in all industries—from the small machine shop to the large auto assembly line. Payback period is typically 3-8 months.

Watch the robot in action: http://bit.ly/UlaUgw

The company:

Universal Robots is a first mover within a new segment of collaborative robots focusing on user friendliness and flexibility. Since the first UR robot entered the market in 2009, the company has seen substantial growth with the robotic arms now being sold 50 countries worldwide. The company is headquartered in Odense, Denmark where all development and production is carried out.

Company Contact:
Edward Mullen, Universal Robots
National Sales Manager, North America
Tel: +1 631 610 9664

Press Contact:
Mette McCall, Hughes Communications
PR and Marketing Manager, North America
Tel: +1 415 847 8649