Universal Logic Appoints Goutham Mallapragada Chief Technology Officer to Expand Neocortex Software Products for Industry 4.0 Solutions
NASHVILLE, TN –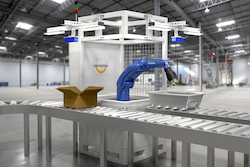 Logic Inc. ® has named Dr. Goutham Mallapragada as Chief Technology Officer for the company. Dr. Mallapragada will oversee the expansion of Universal's Neocortex® artificial intelligence platform, delivering Industry 4.0 solutions for interactive robots in the supply chain via software as a service (SaaS).
Goutham Mallapragada as CTO
In this role, Goutham will report to David Peters, CEO, as part of the senior leadership team. He will oversee all aspects of engineering, including research and development of Universal's flagship AI software product, Neocortex. Working with Peters, he will lead the long-term technology vision and is responsible for providing technical leadership for the software development team. Peters stated, "Over the years, Goutham has demonstrated tremendous capability in both the development of our products and their implementation in the market. We are delighted that he now leads the entire technical enterprise. Part of his mandate will be expanding the team quickly to advance our core mission, meeting customer demand."
Future of Neocortex Artificial Intelligence Platform
Neocortex provides industrial-grade solutions that integrate artificial intelligence with robotic vision, grasping, and motion control to give robots human-like flexibility at high speed. Widespread interest in Universal's Neocortex G2R (Goods to Robot) Cells is driving expansion. Dr. Mallapragada states, "Neocortex sits at the nexus of sensor data driven actuation. It is a cybernetic system in service to the smart factory defined by Industry 4.0. Our team will continue to fuse these technologies into solutions that set industry benchmarks."
Expertise of Goutham Mallapragada
Dr. Mallapragada has expertise in artificial intelligence, machine learning, computer vision, and robotics. He holds a Ph.D. in mechanical engineering and master's degrees in mechanical and electrical engineering from the Pennsylvania State University, where his research focused on application of formal language theory to control autonomous agents. He was a member of the Networked Robotics and Sensor Intelligence laboratory while at Penn State. He earlier received his bachelor's degree in mechanical engineering from Osmania University in Hyderabad, India where he was a gold medalist. Prior to his role as CTO, Goutham held Universal positions as Chief Scientist and Machine Learning Scientist where he was instrumental in developing the high-performance Neocortex and Spatial Vision® software products into a reliable platform.
About Universal Logic Inc.
Universal integrates artificial intelligence with vision, grasping and motion control to give machines human-like flexibility at high speed. It provides supply chains with complete automated material handling systems for high-mix/high-volume applications.