Unicam Extends Product Portfolio in Europe with OCTOPUZ Robotic Software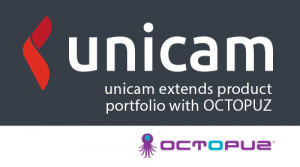 unicam, one of Germany's leading CAD/CAM solutions providers, has teamed up with In-House Solutions to offer OCTOPUZ offline robot programming software to customers in Europe.
The company has been working in the field of CAD/CAM robotics since 2009, and is excited to demonstrate how OCTOPUZ can benefit their clients. To best highlight the benefits of incorporating the innovative software into a manufacturing environment, unicam constructed a robot demonstration cell that provides an up close and personal look at its many attributes.
"OCTOPUZ marks a revolution in the use of robots in the manufacturing industry. The program is built on a world-leading piece of software which has been on the market for 15 years," said Johannes Krebs, managing director of unicam. "In addition to making it the ideal solution for any industry that uses robotic manufacturing technology, the program's versatility allows it to be adapted to each client's individual requirements."
OCTOPUZ is an intelligent, CAD-based offline robot programming and simulation software solution suitable for any path-sensitive application. It can be utilized in a wide range of applications, making it unique on the market. Operators can use it to simulate all cell components and multiple robots offline at the same time.
The software provides optimized external axis management and indicates reach limitations while avoiding singularity. Users benefit from optimal efficiency when they add OCTOPUZ to their manufacturing environments. Its extensive features are particularly suited to fabrication, edge following, material removal, simulation and additive applications.
"No other software makes such complex applications so simple. It's almost too good to be true and we're more than happy for our clients to come and see the impressive software at work for themselves," Krebs added.
About unicam
unicam Software GmbH has been working as a systems partner in the field of comprehensive CAD/CAM solutions since 1992. The systems specialist provides top-level manufacturing support services in the fields of milling, turning, wire cutting and robotic machining. As an authorised distributor of the globally successful products Mastercam and SolidCAM, the company helps put its clients on the right track for the future. Drawing on its long-standing experience and with its personalised service, own post processor programming solution and training sessions delivered at its business premises, unicam Software GmbH is on hand to provide its clients with comprehensive professional support.
About OCTOPUZ
OCTOPUZ is an intelligent offline robot programming and simulation software ideal for any path-sensitive application. Created by In-House Solutions, the company took a revolutionary approach by combining the offline programming of robots with a manufacturing process simulation. Today, OCTOPUZ provides a mainstream, versatile, powerful and effective solution for any robotic challenge.
About In-House Solutions
More than 27 years ago, In-House Solutions began reselling and developing powerful software tools accessible to small- and medium-sized manufacturers. Today, the company provides CAD/CAM, DNC, PCMM and OCTOPUZ robotic programming software solutions to organizations of all sizes. The In-House Solutions team of experts, with offices in the U.S., Canada and Germany, are dedicated to selling, supporting, developing and implementing a full spectrum of software tools, particularly those specializing in NC programming and optimization, shop floor DNC communications and offline programming of industrial robots. In-House Solutions is the Canadian Mastercam distributor, and OCTOPUZ completes the company's software solutions for manufacturing.