Ultrafast Thin Film Polarizers
rong>Ultrafast Thin Film Polarizers ideal for use with high power lasers

Feature high damage thresholds and excellent extinction ratios

Barrington, N.J. - Edmund Optics® (EO), the premier provider of optical components, introduces new Ultrafast Thin Film Polarizers. They use thin film coating technology for optimal performance in the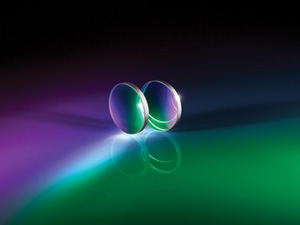 near-infrared (NIR) wavelength range.

Ideal for use with Ti:Sapphire laser sources

Ultrafast Thin Film Polarizers provide high damage thresholds, which is ideal for use with high power lasers - including Ti: Sapphire laser sources. They also offer an excellent extinction ratio for superior efficiency in a wide variety of applications.

Transmission and reflection polarizers are available

Ultrafast Thin Film Polarizers are available in transmission polarizer models, with polarizing coatings on both sides of the polarizer and in reflection polarizer models, featuring a polarizing coating on the input face and an anti-reflection (AR) coating on the output face. Both transmission and reflection Ultrafast Polarizers are offered in 25.4 mm diameter with a wavelength range of either 750-850 nm or 980-1090 nm. Ultrafast Thin Film Polarizers are in-stock and available for immediate delivery for fast turnaround and excellent value.

About EO

Edmund Optics® (EO) is a leading producer of optics, imaging, and photonics technology for R&D, electronics, semiconductor, pharmaceutical, biomedical, and military markets around the globe. EO is the world's largest supplier of off-the-shelf optical components. Customers can purchase items by contacting EO at 1-800-363-1992, via the catalog, or via the website.