UL Certified LED Line Light
Int

roducing the NEW UL Certified LED Line Light. Developed by our engineers, the UL Line Light blends the advanced breakthrough technology of the Gen4 Line light with the compact design of the Metabright™ line lights. By acq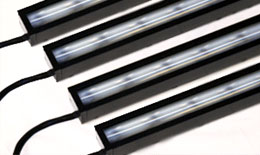 uiring the UL Certification, you can guarantee that the build materials and LEDs are of a higher quality that is standard at Metaphase Technologies.

Features of the UL Line Light:

• Compressed Air Cooling ready
• High Intensity, over 1 million Lux
• Useful for high intensity applications and hot environments
• Brighter than our standard Metabright™ Series
• Projects a thin strip of concentrated LED light onto an object
• Suitable for Line Scan Camera (Linear Array) applications
• Metaphase Technologies offers the largest selection of line lights: Sizes 5" to 120"
• High Uniformity both laterally and longitudinally

Compressed Air Ready:

The UL Line Light has built in Air Cooling capabilities for High Intensity and Harsh Environment Applications. Through the use of a specially created air cooling channel and a vortex cooler, the UL Line Light can withstand the heat and harshness of most application environments.