UI-5360CP and UI-5370CP Cameras
IDS Expands GigE Interface Camera Line-Up

New Cameras Feature CMOSIS Revision 3 CMOS Sensors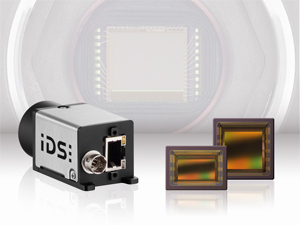 WOBURN, MA -- IDS Imaging Development has extended its GigE uEye™ CP family with two new industrial camera models with GigE interface and Power-over-Ethernet capability. Both the new UI-5360CP and UI-5370CP models feature Revision 3 CMV2000 and CMV4000 CMOS sensors from CMOSIS, and combine an outstanding resolution of up to 2048 x 2048 pixels with excellent light sensitivity and rapid frame rates.

The UI-5360CP is equipped with a 2.2 megapixel sensor and can capture up to 36 frames per second, while the UI-5370CP has a 4.2 megapixel sensor and achieves an impressive 19 fps. Standard on both cameras is 60MB of on-board memory for the temporary storage of pictures. IDS software, included with the GigE uEye CP cameras, delivers the same plug & play convenience offered by IDS USB cameras.

In addition to their innovative pixel architecture, which significantly reduces fixed pattern noise, the Revision 3 CMOSIS sensors provide a range of other features that are beneficial to numerous machine vision applications. For example, the multi-AOI function with up to eight Areas-of-Interest allows simultaneous inspection of different features at high speeds. Meanwhile, the line scan mode implemented by IDS enables frame rates of up to 8000 fps to be achieved. This makes the cameras a cost-effective alternative to expensive line scan cameras, such as those used in bottle or endless web inspection systems.

These GigE cameras are also recommended for microscopy and astronomy applications, as the huge 1" format of the 4.2 megapixel sensor has comparatively large pixels, making it exceptionally light sensitive and low noise.

At just 29 x 29 x 41 mm, the Gigabit Ethernet cameras have a compact design. The magnesium housing and Hirose connector for opto-isolated trigger and lighting signals underline their industrial credentials. Because the PoE cameras have just one cable for data transmission and power supply, they can easily be integrated into a huge range of applications.

Both cameras are available in monochrome or color options, as well as in a version with an NIR sensor and double sensitivity in the near infrared range. Both are supported from driver version 4.40 onwards.