uEye™ XS, the World's Smallest Machine Vision Camera with Autofocus
rong>IDS Shipping World's Smallest Autofocus Machine Vision Camera

uEye XS micro camera features 5MP resolution and wealth of automatic functions for endless application possibilities

WOBURN, MA - IDS Imaging Development Systems announced that it is shipping its new uEye™ XS, the world's smallest machine vision camera with autofocus. Measuring a compact 23 x 26.5 x 21.5 mm (.9" x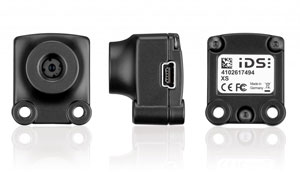 1.04" x .84"), the uEye™ XS is amazingly simple to integrate into virtually any imaging system, ranging from interactive kiosks and embedded systems using the Raspberry Pi, to traditional applications in medical technology, industrial quality control, microscopy, and access control.

"I have demonstrated the uEye XS to several of our largest customers who are simply amazed to find an autofocus camera smaller than a square inch," said Daniel Seiler, Chief Operating Officer, IDS Imaging Development Systems, Woburn, MA. "In the time it takes me to show the camera, they've already come up with dozens of new application ideas as to how the uEye XS can be deployed. They've also told me that there is usually a trade-off between compact camera size and autofocus, yet they get both with our XS."

Thanks to the integrated autofocus optical system, the uEye™ XS delivers a crisp image from distances of just 10 cm, either automatically or manually using software. The associated API function also enables the current focus position to be read. Digital zoom allows easy and almost continuous enlargement of smaller sections of the image. A range of automatic image control functions, including auto white balance, auto gain and auto exposure time, are performed in the camera itself. This considerably reduces CPU utilization, while also enabling easy processing of the images captured independently of the PC system.

Featuring the 5 megapixel Aptina™ CMOS sensor with a pixel size of 1.4 µm, the uEye™ XS camera delivers detailed, true color images in a choice of seven fixed image formats ranging from 5 MP (2592 x 1944) to basic VGA (640 x 480). Frame rate is freely adjustable for long or short exposures, and at full 5MB resolution the XS will capture 15 fps. Binning can be used to achieve frame rates as high as 30 fps. It connects via standard USB 2.0 and a mini-B socket, with power supply provided by the bus cable. The reinforced magnesium housing helps the camera withstand heavy use and demanding industrial environments.

The IDS uEye™ XS camera comes complete with the comprehensive IDS Software suite, including drivers, tools and interfaces to simplify integration into a range of applications.

ABOUT IDS GmbH
IDS GmbH is a leading manufacturer of digital industrial cameras and frame grabbers. The company was founded by Jürgen Hartmann and Armin Vogt in 1997. Their mission then and now is to develop, manufacture and distribute industrial grade imaging components with an excellent price/performance ratio and maximum ease of use. IDS GmbH is internationally represented by a subsidiary in the USA and through a network of distributors in almost all European and Asian countries. About half of IDS employees are engineers in hardware and software development as well as applications engineering. IDS customers include OEMs, system integrators and manufacturers in the industrial, security, scientific and medical industries. Over 200,000 IDS frame grabbers and 140,000 USB and GigE uEye cameras are in use worldwide today.

Embedded Vision
This content is part of the Embedded Vision curated collection. To learn more about Embedded Vision,
click here
.