uEye V 3.90 Upgraded Version Camera Software
Download software for free at www.ids-imaging.com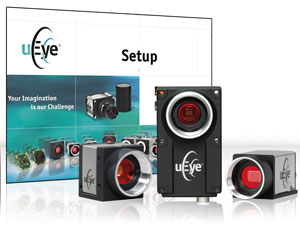 IDS GmbH, a global leader in machine vision technology, today released an upgraded software package for its uEye™ GigE and USB machine vision cameras. New uEye V 3.90 software features sequence mode for e2v sensors, pulse width modulation (PWM), and boot booster to give the highest quality camera experience.
The e2v sensor sequence mode allows the capture of higher dynamic image sequences by using multiple exposures, as well as the capture of different Areas of Interest (AOI) automatically. Parameter sets comprising AOI position, exposure time, and gain can be set individually for each image in the sequence, allowing for faster and more accurate recordings.
GigE uEye models now have pulse width modulation (PWM) for the camera's digital strobe output. This feature enables the camera to control the brightness of a light source connected to the strobe output. Frequency and duty cycle of the output signal can be adjusted, turning the camera into a function generator. Users can experiment with both the sequence mode and pulse width modulation in uEye Cockpit, the comprehensive camera viewer included in the setup.
The boot booster enables the access of GigE cameras faster. With this feature, cameras automatically boot when the computer is turned on.
All features of the V 3.90 software development kit can be used with popular programming languages like C/C++, C# or VB. Drivers are available for Microsoft Windows. Linux and OEM versions will be available shortly.