uEye USB 2.0 Cameras Compatible with New USB 3.0 Interface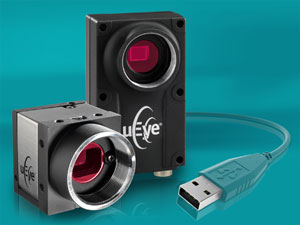 Camera manufacturer IDS Imaging Development Systems GmbH has confirmed the compatibility of all of its uEye USB 2.0 camera models with the USB 3.0 interface after carrying out extensive testing. The cameras were tested using several current PC mainboards from leading manufacturers which already feature the latest version of the USB connection.
USB 3.0 is on the advance. The interface is increasingly being found on new PCs, mainboards and USB plug-in cards. This latest generation of the serial bus could already replace version 2.0 in the medium term. Camera manufacturer IDS, which has been providing industrial cameras with a USB connection since 2004, has therefore tested all of its uEye camera models equipped with a USB 2.0 port for compatibility with the latest mainboards featuring a USB 3.0 or SuperSpeed USB connection. The company is pleased to confirm to its customers the full compatibility and, accordingly, investment security.
When used with a USB 3.0 connection, 100% of the performance and functionality of the cameras is available. This compatibility also includes the cables and hubs which have been used so far.
USB version 3.0 was presented in late 2008 as "SuperSpeed USB". With this latest generation of the popular digital bus, data transfer rates of up to 5 Gbit/s, or 10 times faster than via copper wire, are possible. The new interface also features improvements in energy management and CPU load.
A free white paper explaining in detail how the USB 3.0 technology works and its advantages when used as a camera interface is available for download from the IDS website: http://www.ids-imaging.de/go/whitepaper