uEye™ UI-5490HE GigE Camera
rong>IDS Introduces First 10MP GigE Machine Vision Camera Available in 90° Mounting Angle

WOBURN, MA -- IDS GmbH, a global leader in machine vision technology, has introduced the new uEye™ UI-5490HE, the company's first GigE camera with an optional 90° angled housing for maximum flexibility in tight spaces.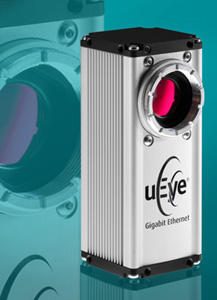 Capable of acquiring ten-megapixel images of 3840 x 2784 pixels with 1.67 µm, square pixels at 8 fps, the UI-5490HE can be integrated into systems for semiconductor inspection, manufacturing quality control, food and beverage inspection, microscopy and medical imaging. Image data from its Aptina® 1/2-inch CMOS sensor is output with up to 12 bit depth per channel, while an internal field-programmable gate array (FPGA) with 64 MB image memory ensures fast and reliable data transfer. Other features include binning and area of interest which allow 37 FPS at 1920x1080 resolution.

With GigE technology, higher bandwidth and cable lengths up to 100 m can be achieved with the GigE uEye HE family.

Besides the lockable GigE port, the UI-5490HE features 4 digital I/O's and an RS232 interface that can be used to control external devices. Users can visit the IDS site to download a comprehensive software package consisting of SDKs, interfaces and tools and drivers. To make integration as easy as possible and allow use of familiar development environments, IDS supports the following programming languages: C, C++, C#, Microsoft .NET and Visual Basic. IDS also provides 3rd party software interfaces for Cognex Vision Pro, Common Vision Blox, HALCON, LabView, and NeuroCheck.

For more information, please visit www.ids-imaging.com or call (781) 787-0048.

ABOUT IDS GmbH
IDS GmbH is a leading manufacturer of digital industrial cameras and frame grabbers. The company was founded by Jürgen Hartmann and Armin Vogt in 1997. Their mission then and now is to develop, manufacture and distribute industrial grade imaging components with an excellent price/performance ratio and maximum ease of use. IDS GmbH is internationally represented by a subsidiary in the USA and through a network of distributors in almost all European and Asian countries. About half of IDS employees are engineers in hardware and software development as well as applications engineering. IDS customers include OEMs, system integrators and manufacturers in the industrial, security, scientific and medical industries. Over 200,000 IDS frame grabbers and 140,000 USB and GigE uEye cameras are in use worldwide today.