U500 Ultrasonic Sensor
rong>Success principle flexibility: photoelectric and ultrasonic sensors with the same design

The story of the new performance class continues to be written. With the U500 sensor, Baumer now expands the portfolio of NextGen sensors to include ultrasonic technology. The new sensors are identical in design and size with their series O500 electronic counterparts. This OneBox design also applies to every available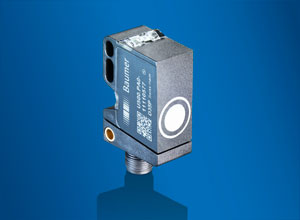 sensor principle and offers the user maximum flexibility during the planning phase.Caption: The U500 ultrasonic sensor completes Baumer's new performance category.

Not only that: Also with subsequent modifications in a system's requirements profile, the sensors can be exchanged quickly and easily without any additional conversion measures. In addition to the U500 and O500, the smaller O300 completes Baumer's new performance category for applications with limited space.

While the photoelectric sensors are predestined for applications with very small objects and high speed thanks to their precise light spot, the great advantage of ultrasonic sensors is that they detect almost every object. They do not depend on color, characteristics or transparency, even under harsh conditions with large amounts of dirt.

The U500 has a special place in the range of ultrasonic sensors due to its versatile performance. With 1000 mm, it offers the longest range in its class, with many application possibilities. The fast response time also increases flexibility in applications. A further advantage is the narrow, symmetrical sonic beam. It has a diameter of only 80 mm at an object distance of 500 mm. This allows the U500 to be used in applications with very cramped spaces.

Furthermore, the sensor is distinguished by extraordinary reliability, which is based on large excess gain. Reliable operation is therefore guaranteed. The robust housing (IP67) and new transducer also contribute to making the U500 an extremely resilient sensor. It is unaffected by dirt, water droplets or even cleaning agents. The versatility is also shown by the availability of the U500 in three sensor principles: As a proximity switch, distance measuring sensor and reflective light barrier.

The Baumer Group is an international leading manufacturer and developer of sensors, encoders, measuring instruments and components for automated image-processing. Baumer combines innovative technology and customer-oriented service into intelligent solutions for factory and process automation and offers a uniquely wide range of related products and technologies.

With more than 2,500 employees and production plants, sales branches and agencies in 36 subsidiaries and 18 countries, the family-owned company is always close to the customer. Industrial clients in many sectors gain vital advantages and measurable added value from the worldwide consistency of Baumer´s high quality standards and its enormous innovative potential. For further information, visit www.baumer.com on the internet.