Two New Go Series Cameras from JAI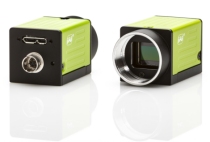 SAN JOSE, CA – JAI today announced the addition of two more models to its Go Series of small and durable industrial cameras.
The new GO-2400-USB is the third interface variant for the GO-2400 family, which features 2.35-megapixel resolution and the Sony PregiusTM IMX174 CMOS image sensor. With a high performance USB3 Vision interface, the new GO-2400-USB models (monochrome and color) offer frame rates of up to 159 frames per second at full resolution. They join previous GO-2400 models which featured GigE Vision and Power over Mini Camera Link interfaces.
The new GO-5101-PMCL models (monochrome and color) feature the Sony PregiusTM IMX264 CMOS image sensor, with 5.1-megapixel resolution and a frame rate of 35.6 frames per second. The GO-5101-PMCL is equipped with a Power over Mini Camera Link interface, but can also be powered over a separate 4-pin connector if desired. JAI's previously-launched GO-5101-PGE models offer the same sensor and resolution, but with a GigE Vision interface that runs at 22.7 frames per second.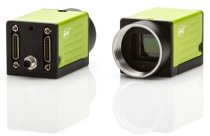 Like the other Go Series cameras, the new models offer a rich set of features making them suitable for a wide range of systems and applications. Included are binning functions, region-of-interest (ROI), lookup tables (LUT), sequencer trigger modes, auto level control (auto gain/shutter), and more. Their small size (29 mm x 29 mm x 41.5 mm, excluding lens mount) and light weight (46 grams) are ideal for use in robotics or applications which require repetitive camera movement, as well as for any application where space is at a premium.
More importantly, the GO-2400-USB and GO-5101-PMCL share the same high durability features of the Go Series, including an MTBF rating of over 200,000 hours of operation.
The cameras support standard C-mount lenses.
About JAI
JAI is a manufacturer of high quality, industrial-grade cameras for the machine vision, transportation, food & beverage, aerospace, medical and scientific markets.
JAI's broad product line features high performance progressive scan CCD and CMOS cameras with spatial resolutions from VGA to 20 megapixels. It also includes a range of innovative multi-sensor prism-block cameras including both area scan and line scan models.
Physical interfaces include the Camera Link®, GigE Vision®, CoaXPress, and USB3 Vision high performance digital standards, as well as both TV-standard and analog progressive scan output.
JAI cameras help improve customer businesses in a variety of ways, whether by improving quality and accuracy, lowering costs, increasing yields, or simply enabling better service. In addition to cameras, JAI's traffic solutions group is one of the world's leading manufacturers of specialized traffic systems. Solutions are based on JAI-developed hardware and software, which is often integrated with third-party products.
Company Contact
Rich Dickerson
Tel: 408-383-4394