Two in one: Leuze presents the GSX, the world's first combined fork sensor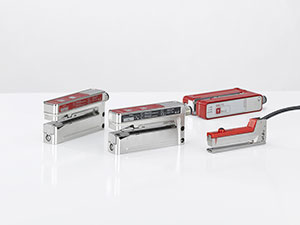 With the new GSX combined fork sensor, Leuze is once again introducing a worldwide innovation. This product combines the advantages light and ultrasonic sensors. The GSX sensor is exceptionally suitable for labeling machines used in the packaging industry.
With the introduction of the GSX, the world's first combined fork sensor, Leuze is continuing its decades-long tradition as an innovator. Leuze invented not only the first label fork sensor with the GS05, but also developed the first ultrasonic fork sensor with the GSU14. With the company's latest innovation, the GSX (various models available), Leuze has expanded its fork sensor product range by adding a combined model that can do both: light and ultrasonic. It combines the advantages of the optical variants with those of the ultrasonic solutions, and it is best suited for labeling machines used in the packaging industry. With this innovation, Leuze is once again demonstrating their many years of expertise and the application know-how of the Sensor People in this field.
Leuze expands its fork sensor product range
Affixing labels of various shapes, sizes, and materials on products and packaging by means of a labeling machine is one of the fundamental tasks carried out in the packaging industry. For its precise positioning, the label must be safely and reliably detected - even at high conveyor speeds. This task is performed by fork sensors, which house the transmitter and receiver in a single device and ensure high operational safety. These devices are not only very sensitive, they are also easy to mount and do not require any alignment. Until now, Leuze offered two fork sensor models for this purpose: light and ultrasonic. A new version that combines light and ultrasonic is now available.
Two in one: world's first GSX14E
The GSX fork sensor is the world's first sensor of its kind and combines the two detection methods of ultrasonic and light in a single housing. It brings together the advantages of both principles and can be used very flexibly. It reliably, quickly, and precisely detects a wide range of labels, regardless of their material and surface characteristics. This increases the machine throughput and avoids downtime. Even labels made of inhomogeneous cavitated BOPP material can be reliably detected through the optical operating principle. The fork sensor is especially well suited for applications in which various types of labels need to be detected. Until now, this often required several different fork sensors. The user saves not only space, but also additional time and costs of installation. The new fork sensor can be quickly and easily set up via the teach button to teach the label-carrier combination. Only one universal mounting position is required for all objects.
IO-Link for easy configuration and recipe management
The new GSX fork sensor features an IO-Link interface. This serves to configure the sensor easily, quickly, and economically. The interface can be used to enable remote teaching, or to lock the buttons, among other things. In addition, recipe management facilitates easy format changeovers when replacing rolls. This means that re-teaching is not necessary when changing rolls to a different label format. The format is changed quickly by selecting the appropriate parameter set for the corresponding label format. This parameter selection is directly carried out on the labeling machine via the HMI. It saves not only setup time, but it also increases the production volume and makes the system more economical.
Detection of non-transparent labels on label-carrier combinations of labeling machines.
Detection of transparent or semi-transparent labels on label-carrier combinations of labeling machines.
About Leuze
With curiosity and determination, the Sensor People from Leuze have been forerunners for innovations and technological milestones in industrial automation for more than 50 years. They are driven by the success of their customers. Yesterday. Today. Tomorrow. The technology leader´s high-tech product range includes a number of different sensors for the field of automation technology. Among these are switching and measuring sensors, identification systems, and data transmission and image processing solutions. As a Safety Expert, Leuze is also focused on components, services and solutions for safety at work. Leuze concentrates on its core industries, in which the Sensor People have extensive, specific application know-how and many years of experience. These include intralogistics and the packaging industry, machine tools, the automotive industry as well as laboratory automation. Leuze was founded in 1963, headquartered in Owen/Teck in Southern Germany. Today there are more than 1200 Sensor People around the world who are working with determination and passion for progress and transformation to make their customers successful in a constantly changing industry. Regardless of whether in the technological competence centers or in one of the 21 sales companies, supported by more than 40 international distributors.