Two For All Challenges: VisiLine Series with Sony IMX174 and IMX249 CMOS Sensors Went Into Series Production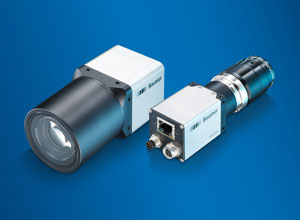 Global shutter sensors IMX174 and IMX249 of the latest Sony CMOS generation are now integrated in six new models of the Baumer VisiLine cameras – both in mono and color and IMX174 even in an IP 65/67 rated housing. Thanks to 1920 x 1200 pixel resolution and up to 53 fps these cameras convince by their excellent price-performance ration in the 2 megapixel range.
The cameras provide a high dynamic range of more than 70 dB, an excellent signal/noise ratio and yet very high sensitivity. They are ideally suited for any industry where stable image evaluation goes together with highest demands on image quality even in dim light. The robust VisiLine IP 65/67 cameras forgo an additional housing for lens and camera protection against harsh industrial conditions, as often required in robotics or automotive. This implies significant benefits and cost reduction in installation and inventory. Industry-capable M12 standard connectors are compatible to a broad range of cables by many different manufacturers.
Thanks to these six new camera models in the 2 megapixel camera segment, many different variants are available with both adequate CMOS and commonly used ICX274 Sony CCD sensors.
About Baumer Group
The Baumer Group is one of the worldwide leading manufacturers of sensors, encoders, measuring instruments and components for automated image-processing. Baumer combines innovative technologies and customer-oriented service into intelligent solutions for factory and process automation and offers an unrivalled wide technology and product portfolio. With around 2,300 employees and 38 subsidiaries in 19 countries, the family-owned group of companies is always close to the customer. Baumer provides clients in most diverse industries with vital benefits and measurable added value by worldwide consistent high quality standards and outstanding innovative potential.
Company Contact
Nicole Marofsky - Marketing Communication
Tel: +49 3528 43 86 19