Two Auto industry Majors Honor KUKA Systems for Supplier Excellence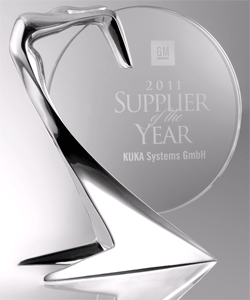 KUKA Systems, a leading global systems integrator and developer of body shop automation solutions for the automotive industry, has received supplier excellence awards from two of the world's best-known automakers.
General Motors named KUKA Systems as a Global Supplier of the Year for 2011. The award recognized the company's performance conducting assembly line projects in Europe. "Given our long-standing, reliable business relationship with GM, we are extremely proud that our exceptional performance has been honored in this way," says Frank Klingemann, CEO of Augsburg-based KUKA Systems GmbH, which is responsible for KUKA Systems' European operations, including work performed for GM. For his part, Bob Socia, Vice President, Global Purchasing and Supply Chain for GM, says: "The supplier of the year award winners' partnership, dedication and commitment to consistently perform above expectations played an important role in GM's success in 2011."
In China, the Shanghai division of Volkswagen AG awarded KUKA Systems China the silver medal in the "Commercial Excellence" category as part of its annual awards. "KUKA Systems has had a close business relationship with Shanghai Volkswagen for some years now," says Dr. Tao Wang, CEO of KUKA Systems China. "Last year, once again, we implemented a number of interesting projects together. This award is confirmation of our successful cooperation".
For KUKA Systems, performance awards of this kind aren't restricted to auto industry customers. Last year it was named Tooling Supplier of the Year by aerospace giant Northrop Grumman for helping develop the Integrated Assembly Line for manufacturing center fuselages for the F-35 fighter jet.
About KUKA Systems
KUKA Systems is an international supplier of flexible automation systems for the Automotive, Aerospace, Energy, Logistics and Industrial Solutions segments. Some 3,600 employees worldwide work on ideas, concepts and solutions for automated production and the provision of products and services for virtually all tasks in the industrial processing of metallic and non-metallic materials. The range of products and services range is marketed internationally via subsidiaries and sales offices in Europe, the Americas and Asia. KUKA Systems recorded orders worth €850.7 million for the 2011 business year.