TRL-40 Industrial Server-Grade System
Supporting AOI and video surveillance applications requiring maximum computing power, intelligent manageability, and high bandwidth with PCI Express Gen3 technology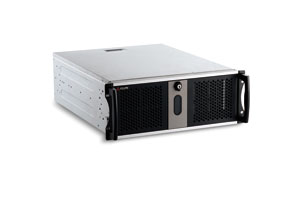 ADLINK Technology, Inc., a leading global provider of intelligent computing platforms, today announced its new 4U server-grade industrial system, the TRL-40, based on the Intel® Xeon® Processor E5-2600 product family and delivering a scalable high performance platform for a wide array of industrial applications. The TRL-40 features outstanding computing power with intelligent manageability by IPMI v2.0, and dedicated PCIe Gen 3 interfaces for up to 3 PCIe x16 VGA cards, making it the optimal solution for automated optical inspection (AOI), digital surveillance, video wall, and medical imaging applications.
The TRL-40 provides increased performance with the latest Intel® Xeon® Processor E5-2600 v2 for peak workloads, significantly improving performance for applications that rely on floating point or vector computations, coupled with dual channel ECC Registered DDR3 1600MHz memory supporting up to 128 GB in eight DIMM slots.
ADLINK's TRL-40 implements a user-friendly web interface through an integrated web-server and web-based KVM, enabling auto record video based from an event trigger. Administrators can easily monitor the system remotely, decreasing maintenance costs through media redirection and out-of-band power management.
Featuring multiple I/O expansion, including 4x PCIe x16 Gen3, 1x PCIe x8 Gen3, and 1x PCIe x4 Gen2, the TRL-40 delivers dedicated PCIe Gen3 bandwidth for image data processing, reducing I/O latency by up to 30% and as much as doubling the bandwidth of previous generations. In addition, the TRL-40 is compatible with ADLINK's off-the-shelf frame grabbers, making it ideal for high-end machine vision and video streaming solutions. To ensure storage utilization and data security, the TRL-40 also provides a hardware RAID solution for up to 4 SATA III storage, as well as one mini PCIe form factor expansion slot and bundling with ADLINK's Industrial modules.
ADLINK's TRL-40 industrial server-grade system improves on competing products with a reliable and durable design, delivering operating vibration tolerance up to 1 Grm, and an operating temperature range of 0°C to 40°C.
The TRL-40 is based on ADLINK's IMB-S90 extended ATX server board with Dual Intel® Xeon® Processors E5 series, also available separately.
About ADLINK Technology
ADLINK Technology provides a wide range of embedded computing products and services to the test & measurement, automation & process control, gaming, communications, medical, network security, and transportation industries. ADLINK products include PCI Express-based data acquisition and I/O; vision and motion control; and AdvancedTCA®, CompactPCI®, and computer-on-modules (COMs) for industrial computing. With the acquisition of Ampro Computers, Inc. and LiPPERT Embedded Computers GmbH, ADLINK also provides a wide range of rugged by design Extreme Rugged™ and rugged product lines including single board computers, COMs and systems.
ADLINK strives to minimize the total cost of ownership (TCO) of its customers by providing customization and system integration services, maintaining low manufacturing costs, and extending the lifecycle of its products. ADLINK is a global company with headquarters and manufacturing in Taiwan; R&D and integration in Taiwan, China, the US, and Germany; and an extensive network of worldwide sales and support offices.
ADLINK is ISO-9001, ISO-14001, ISO-13485 and TL9000 certified, is an Associate Member of the Intel® Intelligent Systems Alliance, an Executive Member of PICMG, a Sponsor Member of the PXI Systems Alliance, an Executive Member of the PC/104 Consortium, an initial member of SGeT (Standardization Group for Embedded Technologies), a Strategic Member of the AXIe Consortium, and a member of VMEbus International Trade Association (VITA). ADLINK is a publicly traded company listed on the TAIEX Taiwan Stock Exchange (stock code: 6166).