Toyota's Partner Robot Provides Glimpse into Future at Emerging Robotics Pavilion of Robots, Vision & Motion Control Show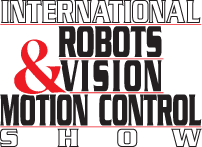 ANN ARBOR, Michigan (April 24, 2009) –The Emerging Robotics Pavilion, a display of "what is to come," leading-edge technology will hit the floor at the biennial International Robots, Vision & Motion Control Show and Conference, June 9-11, 2009 in Chicago. And in one demonstration, a trumpet-playing robot will actually be "walking" its show floor.

Robots for personal mobility, nursing assistance, housekeeping, and more manufacturing, some even having the capability to replicate themselves, will be demonstrated. Not only will attendees be able to see these new robotic developments in action, but they will be able to contemplate their potential application in both industrial and non-industrial applications in the future.


Debuting for the first time in Chicago is Toyota's Partner Robot. The Partner Robot is more than just a pretty face, however. In fact, it will walk about while carrying a tune, literally. The Partner Robot will play a selection of songs on the trumpet during its fifteen-minute repertoire. The four feet, nine inch robot weighs in at 88 pounds, including the trumpet.

Tania Saldana, spokeswoman for Toyota Motor Engineering & Manufacturing North America, Inc., explains how it all works. "The robot has an air compressor, 'artificial lungs,' that expel air, mimicking the vibration of a human mouth. The trumpet's valves are pressed by mechanical fingers that have human-like dexterity."
More than a musical prodigy, the Partner Robot was designed to improve people's quality of life. Saldana explains, "Toyota is working on the early commercialization of partner-robots which will assist people in four areas: Domestic duties, nursing/medical/elderly care, manufacturing and personal mobility. We are thrilled to participate at the International Robots, Vision & Motion Control Show for the first time to showcase this innovative technology."
Within the last decade, Toyota started developing advanced robots by combining industrial robot technologies with the latest technologies used in automobiles. When the Partner Robot walks, for example, it is using a modified version of Toyota's Vehicle Stability Control (VSC) technology to enable the robot to walk in a stable manner - forward and backwards.

Daily performances of the Toyota Partner Robot will be held on Tuesday, Wednesday and Thursday (June 9, 10 and 11) at 10:30 a.m., 12 noon, and 2:00 p.m. There will be an additional 4 p.m. performance on Tuesday and Wednesday. Technology, and music lovers too, will be attracted to the demonstration and surely enjoy the musical set.

While Toyota's Partner Robot may be the headliner at the Emerging Robotics Pavilion, it has plenty of company from the likes of Readybot (home and industrial service robot), Cornell University (self-replicating robot), Indiana University (robotic golf cart), search and rescue robot test methods demonstrated by the National Institute of Standards and Technology (NIST) and CCS Robotics (security and healthcare robots). Some of these robots will incorporate industrial robot arms on mobile bases.

According to Joanne Pransky, a robotics industry consultant, "Robots in the Emerging Robotics Pavilion are based on the evolution of technology, and these advanced robotic developments can offer new solutions, as well as enhance existing applications, in the industrial robot marketplace."

In the conference portion of the International Robots, Vision & Motion Control Show, robotic, machine vision and motion control tracks are offered throughout the week beginning on Monday, June 8. Many of the conference sessions are an excellent starting place for those considering adopting these technologies.

On Wednesday morning, June 10, Mrs. Ellen M. Purdy, Enterprise Director, Joint Ground Robotics, Office of Under Secretary for Defense for Acquisition, Technology and Logistics, will give a keynote talk on current and future applications using robotics and related automation to accomplish battlefield missions. The afternoon features a presentation on "The Latest Advances in Service Robotics" by experts from around the world.

The International Robots, Vision & Motion Control Show and Conference is sponsored by three trade groups: The Robotic Industries Association, the Automated Imaging Association, and the Motion Control Association. The event will be held June 9-11 at the Donald E. Stephens Convention Center in Rosemont (Chicago), Illinois. Admission to the Emerging Robots Pavilion is included with entrance to the show and free exhibit passes are available. Registration for the conference sessions starts at less than $200 per day. Full details can be found at http://www.robots-vision-show.info/ or by calling 734/994-6088.