Torsten Wiesinger to head global sales at MVTec
Sales director with machine vision experience joins the team
Continuing on a course of international expansion and growth
New target groups tapped for machine visio technology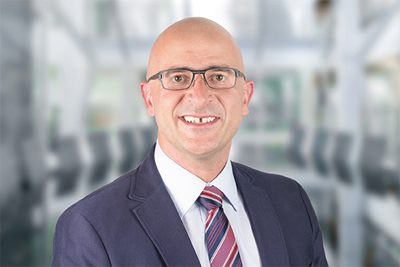 Munich – MVTec Software GmbH has added a new face to its sales team: on September 1, Torsten Wiesinger became the new sales director, responsible for the global sales activities of the leading provider of innovative machine vision technologies. Wiesinger has many years of international sales experience, most recently as CEO of IDS Imaging, a well-known, globally operating manufacturer of industrial cameras. With this new addition to its team, MVTec underscores its successful course for global growth and takes into account the importance of machine vision as a future-oriented technology in a wide range of industrial and non-industrial applications.

Machine vision plays a key role in highly automated production processes – in Industrial Internet of Things (IIoT) scenarios as well as in non-production applications, such as medical technology and agriculture. MVTec has undergone above-average growth in recent years, further confirming this trend. Thus, the 20-year-old company doubled its office space at the end of last year when it moved into new headquarters in Munich and welcomed its 100th employee. MVTec also has a strong global sales network and is represented by 28 partners in 41 countries. Thanks to this network, MERLIC, MVTec's software for creating machine vision applications easily, is available globally in nine languages since June of this year. Apart from managing international MERLIC sales, Torsten Wiesinger will also supervise sales activities for HALCON, now especially around VISION 2016 trade show and the forthcoming HALCON 13 release.

Combined sales and management experience
"With the addition of Torsten Wiesinger, our company has gained a very experienced and well connected industry insider. His strong leadership and sales expertise will help us continue our course of successful expansion and further strengthen our position as an internationally recognized key player in the machine vision industry," comments Dr. Olaf Munkelt, Managing Director of MVTec.

Torsten Wiesinger adds: "With HALCON and MERLIC and the related services, MVTec Software GmbH has excellent potential for growth in the area of Industrial Internet of Things. I am very much looking forward to the new and exciting experiences that go along with a hardware-independent pure software and service provider."

About HALCON
MVTec HALCON is the comprehensive standard software for machine vision with an integrated development environment (HDevelop) that is used worldwide. It enables cost savings and improved time to market. HALCON's flexible architecture facilitates rapid development of any kind of machine vision application. MVTec HALCON provides outstanding performance and a comprehensive support of multi-core platforms, special instruction sets like AVX2 and NEON, as well as GPU acceleration. It serves all industries, with a library used in hundreds of thousands of installations in all areas of imaging like blob analysis, morphology, matching, measuring, identification, and 3D vision. The software secures your investment by supporting a wide range of operating systems and providing interfaces to hundreds of industrial cameras and frame grabbers, in particular by supporting standards like GenICam, GigE Vision, and USB3 Vision.

About MERLIC
MERLIC is an all-in-one software product for quickly building machine vision applications without any need for programming. It is based on MVTec's extensive machine vision expertise and combines reliable, fast performance with ease of use. An image-centered user interface and intuitive interaction concepts like "easyTouch" provide an efficient workflow, which leads to time and cost savings. MERLIC provides tools to design and build complete machine vision applications with a graphical user interface, integrated PLC communication and image acquisition based on industry standards. All standard machine vision tools such as calibration, alignment, measuring, counting, checking, reading, position determination, and defect detection are included in MERLIC.

About MVTec
MVTec is a leading manufacturer of standard software for machine vision. MVTec products are used in all demanding areas of imaging: Semi-conductor industry, web inspection, quality control and inspection applications in general, medicine, 3D vision, and surveillance. MVTec, with its head office in Munich (Germany), has more than 30 established distributors worldwide and in addition, MVTec, LLC works out of Boston, MA (USA).