Tire Solutions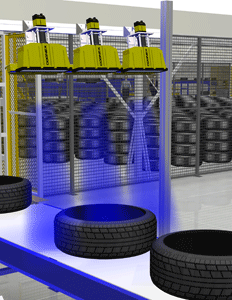 Cognex Corporation, (NASDAQ: CGNX), the world's leader in machine vision, introduced Cognex Tire Solutions, a suite of products designed to solve barcode and low-contrast embossed character reading challenges for tire manufacturers. Cognex Tire Solutions integrate proprietary machine vision knowledge, identification expertise and high-performance barcode reading technology into pre-configured systems that meet the specific requirements of the tire industry.

"We are excited to introduce a cost-competitive product strategy that improves read performance, lowers installation time and reduces cost of ownership," said Carl Gerst, Vice President and Business Unit Manager, ID Products. "These solutions are designed to support code reading applications to minimize read failures and increase throughput and production efficiency, all while decreasing costly rework."
Meeting the tire industry's barcode reading challenges
Tire manufacturers require reliable barcode reading solutions in all stages of production, from the receipt of raw materials to final assembly and distribution. When the lifecycle of a tire spans multiple locations, buildings, and cities or countries, accurate tire identification is essential for managing compliance, work in progress, sorting and routing, and quality control.

With patented algorithms for high-speed barcode and Optical Character Recognition (OCR) reading technology, the new Cognex Tire Solutions provide advanced, reliable reading results. Designed to reduce costs and support process improvement, these Cognex Solutions offer tire manufacturers greater peace of mind with the following features:
Industry-leading read rates: 1DMax+ with Hotbars™ algorithms provide the highest barcode read rates in the industry, even with damaged and low contrast
DataMan® fixed-mount readers: no moving parts; decreases maintenance costs
Image-based readers: allow you to "see what the reader sees" for troubleshooting support and ongoing improvement efforts
Xpand technology: enables barcode readers to cover a larger field of view with less equipment, reducing overall installation and maintenance costs
DS1000 Series 3D Sensor: reads embossed characters on curved, dark surfaces at speeds up to one tire revolution per second
OCRMax™ Vision Technology: yields high contrast reading results from low contrast reading environments
DS1000 Software: 3D and 2D vision toolsets for additional inspection capabilities
The Cognex Connect communications suite also makes it easy to integrate the Cognex Tire Solutions with factory networks. Cognex Tire Solutions are common stocked products backed by dedicated support networks that provide expedited product delivery.



For more information about Cognex Tire Solutions, visit http://www.cognex.com/tires.

About Cognex Corporation
Cognex Corporation designs, develops, manufactures and markets a range of products that incorporate sophisticated machine vision technology that gives them the ability to "see." Cognex products include barcode readers, machine vision sensors and machine vision systems that are used in factories, warehouses and distribution centers around the world to guide, gauge, inspect, identify and assure the quality of items during the manufacturing and distribution process. Cognex is the world's leader in the machine vision industry, having shipped more than 900,000 vision-based products, representing over $3.5 billion in cumulative revenue, since the company's founding in 1981. Headquartered in Natick, Massachusetts, USA, Cognex has regional offices and distributors located throughout North America, Japan, Europe, Asia and Latin America.