Three-Week Lead Time on All Siemens 1FK7 Servomotors
ATLANTA — Siemens Industry, Inc. announced today a value-added service for its popular line of 1FK7 servomotors. Using a configurable options menu to build exactly the motor required, customers can now place an order for any Siemens 1FK7 servomotor and have it drop-shipped in three weeks. Thanks to the diverse range of options available, this new service applies to over 100,000 possible configurations. All compact (CT) and high-dynamic (HD) servomotorThree-Week Lead Time on All Siemens 1FK7 Servomotorss in the 1FK7 family are included.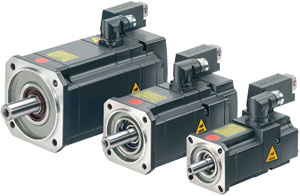 With a total of 6150 option pairings and 18 color choices, servomotors in the 1FK7 family can be configured to 110,700 possible designs. Options include stall torque and RPM rating, encoder style and bit resolution, holding brake functionality, shaft style, IP rating, AC line supply voltage and electronic nameplate recognition via Drive-Cliq®. 1FK7 geared motor options are not included in this program presently.

Siemens is now making this service available to customers in the U.S. market. With the motion controller Simotion® and the drive system Sinamics® S stocked in the United States, Siemens is also able to supply complete motion control systems in three weeks' lead time.

According to Arun Jain, general manager, Siemens Motion Control Business, "We have made the commitment to significantly shorten servomotor delivery times. The 1FK7 family has a wide user base for motion control applications, so we have selected this very important line for our major customer service initiative. We have devised and implemented an entirely new protocol for motor manufacturing and production at our factories."

About Siemens
A division of Siemens Industry, Inc. (SII), the Drive Technologies (DT) Division is the world's leading supplier of products and services for production machinery and machine tools. DT's integrated electrical and mechanical technologies cover the entire drive train and include standard products as well as industry-specific control and drive solutions for metal forming, printing and electronic manufacturing. DT also provides solutions for the glass, wood, plastics, ceramics, textiles, packaging equipment and crane system industries as well as mechatronics support to online services for web-based fault management and preventive maintenance. With nearly 40,000 employees worldwide, the Drive Technologies Division posted worldwide revenues of $13.4 billion in fiscal year 2008.

Siemens Industry, Inc. (SII) is the U.S. affiliate of Siemens' global Industry Sector business—the world's leading supplier of production, transportation and building technology solutions. The company's integrated hardware and software technologies enable comprehensive industry-specific solutions for industrial and infrastructure providers to increase their productivity, sustainability and profitability. The Industry Sector includes six divisions: Building Technologies, Industry Automation, Industry Solutions, Mobility, Drive Technologies and OSRAM SYLVANIA. With nearly 222,000 Siemens Industry Sector employees worldwide, the Industry Sector posted a worldwide profit of $5.82 billion on revenues of $57 billion in fiscal 2008.