ThermoCam TCLC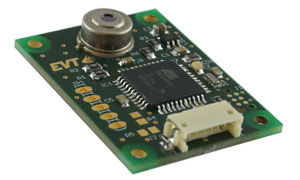 EVT has now an own thermal imaging sensor. Applicable to the thermographic command set of the EyeVision software, the ThermoCam LC was developed to provide low cost infrared solutions for the machine vision industry.
The TCLC allows an image capture of up to 100 images per second and is delivered already precalibrated. The noise (NETD) is also only 0,2K, which guarantees thermal images with high resolution and means that the TCLC camera can work in conditions where a less sensitive camera may not find problems (such as scratches and other errors in the measured material). Also a reduced noise means that it is easier to focus the camera and to identify objects in the IR-image.
The ThermoCam e.g. works in a measurement range of -50°C to +300°C, with a field of view of 32x8 pixel and with optional opening angle of 40°, 60° or 120°.
Applications vary but the TCLC is suitable for detecting e.g. hot parts on a circuit board or it delivers distant temperature measurements in critical processes or in measures the temperature gradation on surfaces.
For the EyeSens TVI project for example the camera made it possible to distinguish different materials e.g. synthetic leather from real leather or else to detect structural interruptions in fiber composites or to measure the layer thickness of lacquer.
Company Contact
Klara Steinschneider
Tel: +49721 668 004 23(0)