The Ultimate "Field Guide to Optomechanical Design and Analysis"
Co-authored by Katie Schwertz, Edmund Optics Optomechanical Design Engineer
Barrington, NJ - Edmund Optics® (EO), the premier provider of optical components to both industry and academia, is proud to recognize and congratulate Katie Schwertz, EO Design Engineer, as co-author of the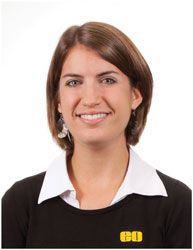 newly released SPIE book, "Field Guide to Optomechanical Design and Analysis." Ms. Schwertz co-wrote the book with Professor James Burge, University of Arizona, as the essential resource for practicing optical and mechanical engineers whose work requires knowledge in both fields.

Optomechanics is a field of mechanics that addresses the specific design challenges associated with optical systems. "Optical designers create optical systems in a lens design program which models them essentially floating in air, but in reality, the optical components need to be held in some very precise way. Sometimes they also need to endure environment changes like temperature and vibration," explains Schwertz.

The Field Guide describes how to mount optical components, as well as how to analyze a given design. Common issues involved with mounting optical components are discussed, including stress, glass strength, thermal effects, vibration, and errors in motion. This easy-to-reference book also has a useful collection of material properties for glasses, metals, and adhesives, along with guidelines for tolerancing optics and machined parts.

Schwertz, while a second year graduate student at the University of Arizona, approached Professor Burge about the idea of writing a field guide for optomechanics. Burge shared in her enthusiasm and had an opportunity for Schwertz to join a previously approved SPIE project, which took over two years of comprehensive research and writing to complete. After the final draft was submitted, Burge asked Schwertz if she was ready to start another. "Maybe someday I'll work on another, but for now I'm going to take a vacation!" replied Schwertz.

Schwertz works as an Optomechanical Design Engineer for Edmund Optics at their Tucson Design Center. She received her MS degree from the College of Optical Sciences at the University of Arizona in 2010. Schwertz has also co-authored with Professor Burge the Cost and performance trade-offs for commercially available linear stages and Relating axial motion of optical elements to focal shift.

You can congratulate Ms. Schwertz in person at Edmund Optics Booth number 1116 during Optics + Photonics. Schwertz will also be presenting August 13, 2012 at 3:30pm during the SPIE Optical Engineering + Applications, part of SPIE Optics + Photonics, on "Graphically selecting optical components and housing material for color correction and passive athermalization."

The Field Guide to Optomechanical Design and Analysis is currently available from SPIE.

To further support the SPIE's dedication to education, Edmund Optics' Amber Czajkowski, Coating Engineer, spoke at SPIE Singapore FOCUS workshop this past July on "Optical Coatings 101."

About EO

Edmund Optics® (EO) is a leading producer of optics, imaging, and photonics technology for R&D, electronics, semiconductor, pharmaceutical, biomedical, and military markets around the globe. EO is the world's largest supplier of off-the-shelf optical components. Customers can purchase items by contacting EO at 1-800-363-1992, via the catalog, or via the website.

Company Contact:
Kirsten Bjork-Jones
Director Global Marketing Communications
Phone: 1-800-363-1992

Editorial Contact:
James Liolin
Media Relations/Content Marketing
Lion Associates
Phone: 1-914-670-0138