The Opportunities for Autonomous Mobile Robots: Highlights from A3's CEO Roundtable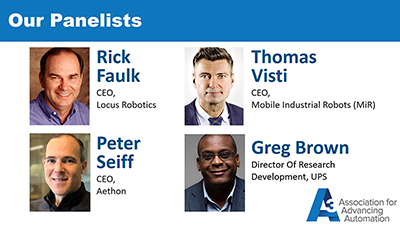 Even before the COVID-19 crisis, autonomous mobile robots (AMRs) were changing the landscape across many environments – from factories to warehouses to hospitals to grocery stores.
Businesses are drawn to the increasing flexibility and diversity of their applications. And, the easy programming and implementation of mobile robots make them attractive to end-users. But with the onset of this pandemic, AMRs are playing a critical role in helping with social distancing, treating patients, delivering essential goods to communities, and disinfecting workplaces.
On April 22, in the second in a series of roundtables hosted by the Association for Advancing Automation (A3), four industry leaders discussed what this rapid adoption means for the AMR industry -- and what will demand for automation look like when this crisis has passed?
The participants:
Rick Faulk, CEO, Locus Robotics
Peter Seiff, CEO, Aethon
Thomas Visti, CEO, Mobile Industrial Robots
Greg Brown, Director of Research and Development from the Advanced Technology Group, UPS
The panel, moderated by Robert Huschka, the director of education strategies at A3, featured a wide-ranging conversation, covering topics such as the effects of the COVID-19 pandemic, the automation journey for new customers, and some of the lessons these leaders have learned.
More than 700 attendees watched the discussion live, which was sponsored by Locus Robotics. If you missed the webinar, you can sign up here to watch the replay.
Here's an edited summary of some of the key topics that were covered:
How are AMRs making a difference during this pandemic?
Rick Faulk: "We are seeing an explosion in certain segments of the economy right now. We are literally shipping by air-freighting bots all over the world. … We're also seeing a lot of retail accounts shuttering right now. And as a result, they are ramping up facilities right now to handle the extra volume that they're generating from e-commerce. We're also in conversations with grocery stores, where they are looking to take facilities that were traditional grocery stores and making them into (distribution centers.)"
Thomas Visti: "Where we now see the biggest growth is in disinfection. In the beginning, it was hospitals, but now its also in non-healthcare sectors, such as helping cleaning airports and manufacturing facilities in general. Of course, a lot of automotive customers and electronic customers have closed down their manufacturing right now, and they're not doing heavy investments. But, of course, this also is starting up some discussions about our automation afterwards."
Greg Brown: "As it relates to the pandemic, robots allow us to leverage the people that we have. So if I have a robot that can transport products around our facilities or do other things – so the people I have available are able to practice social distancing."
Peter Seiff: "I think people are finding additional uses for these robots. We are very busy with our current customers in hospitals. We are also supporting some international efforts to provide robots for Coronavirus specific isolation facilities. ... Everybody's working very hard -- harder than usual, actually seven days a week. Installing tugs and AMR vehicles in places where I'm sure lots of people would rather not be."
How are you keeping operations running when onsite visits are difficult, if not impossible?
Peter Seiff: From the very infancy of our robot design, we actually had conceived of having a remote command center that can actually provide some of the human element that might be needed, especially early on in robotics development going back 12 or 15 years. We've maintained that command center. Many of the things that occur inside the hospital building -- where the robot may need help to complete a mission -- we can do remotely if we need to assist.
Rick Faulk: When we we designed Locus about about four years ago, we designed it from Day One to be a remotely enabled solution. We have a command center, where we can see literally every robot in our network -- and we can see where the humans are standing interacting with those robots, we can do updates over the air. We've designed it. So when we have to deploy a building, we can do mapping remotely. We can put sites live remotely. We just did one this week and one last week with a major brand.
For customers, a big obstacle to deploying AMRs can simply be understanding where to get started. How do you advise customers to get on the road?
Rick Faulk: It starts way up in an organization. It takes the right leaders to make it happen. … The leaders that are most successful are not looking at a 5%, 10% or 15% change, but are looking at a doubling of efficiency. And those are the leaders that are being the most successful. About three years ago in this business now, leaders would say: "I'm not going to stick my job on the line to automate." And now what we're finding, it's really just the opposite: "If I don't automate, and I don't move in this direction, I don't have a vision. Then, my job is on the line."
Thomas Visti: "This technology is still new. Not a lot of our customers have to automate with autonomous mobile robots. So, they expect also that we, as the supplier help them, give them answers to their questions and help them find the right business cases as well. It's important to understand all the possibilities with mobile robots, but also the limitations. Where we really see companies be successful is if they find one specific applications to start with … that is not too difficult. And they get that successful, implemented and installed."
How should a business evaluate an automation system?
Greg Brown: "When we do work with external partners, performance is number one. If I have humans today doing the work, I want to get to human parity or exceed that. That's the goal. Second, we look at reliability and safety. We want to deploy things that are going to last. So if I have a system that can meet performance requirements, but then it's broken down every 20 minutes, that's a problem -- because that means it disrupts our work. The last thing, of course, is ROI. What's the cost of doing business? What's the end state going to look like?"
As leaders, what lessons have you learned during this crisis?
Rick Faulk: You can throw out yesterday's playbook. It doesn't work anymore. Throw it out and stay flexible and adapt. Side with speed over being precise, because there's a lot of data that you don't know today. You're not going to know -- no one knows -- how long this is going to last. The best leaders … process the available information rapidly and make decisions and make those smart trade-offs.
Peter Seiff: When you're at the head of the organization, you need to know how many people are not hearing the same things that you're hearing -- and not everybody's coming to the office to hear those messages. So you have to work hard to make sure that the messages are getting out and that everybody is hearing the priorities because they are shifting so quickly.
Greg Brown: The lessons learned will be -- what we already knew – the need to go faster. For us, that might mean ways that we can be creative to launch robotics. We're breaking the problem down. We're leveraging AI and machine learning in different places, then developing custom solutions for UPS so that we can adapt very quickly. And then maybe share that with various robotics companies, so they can work better with UPS. We're being more aggressive in terms of how we think about deployment. This is no longer something that we can wait on. We need to deploy. How do we go out to the field faster and scale faster?