The Next Time you Sink Your Teeth Into a Delicious, Juicy Apple, Thank AMT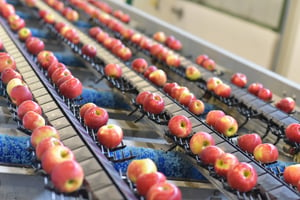 Article by Senior Human Resources Representative Judy Arbuckle
AMT's controls team played a key role in the handling of millions of apples and pears distributed to markets across the U.S. and internationally. A leading fruit distributor, located just east of the beautiful snow-capped Cascade Mountain Range of Washington state, engaged the controls expertise of AMT to assist in the designing and testing of a system used to convey thousands of pounds of apples each day to cool storage and awaiting shipping trucks. The fruit, harvested from the surrounding Snake River and White Salmon River area farms, is renowned for its appearance, storage life, and sweet flavor.
The system handled the prepped, sorted, wrapped, and palletized fruit, and conveyed the massive bundles to cool storage areas. The bundles were then later moved with gravity conveyors to awaiting shipping trucks for transport to market.
The conveyor system project is part of the distributor's "rebuild" after a fire destroyed their 92,000 square foot packing facility in 2017. The facility, which housed 2 packing lines and state of the art optical sizing equipment, suffered estimated losses in the "tens of millions" of dollars as a result of the fire. With the help of partners like AMT, the distributor is moving forward to meet its distribution and financial goals.
The system architecture consisted of an Allen Bradley Safety PLC, forty 527 VFDs, three monitors incorporating FactoryTalk View Runtime, several 1734-AENT point I/O modules, several distributed I/O modules, two light screens, twelve area scanners, and interfacing to AGV and warehouse management systems.