The New AKD® Decentralized Servo Drive System from Kollmorgen Can Reduce Cabling by More Than 80%
Single-cable connection technology significantly reduces cable costs while simplifying machine design, set-up and operation
RADFORD, VA – Kollmorgen introduces AKD-N - a distributed servo drive solution that significantly reduces cabinet space and cabling hassle, simplifying machine design, set-up and operation. This drive system leverages robust industry IP67-rated drives positioned next to the motor and supplied by a central power module located in the switchgear cabinet. An 11 mm diameter hybrid cable delivers power and fieldbus communication to the AKD-N servo drives. As a result, the drives operate directly in series, supplying up to 4 kW per axis. Safe Torque Off functionality is integrated into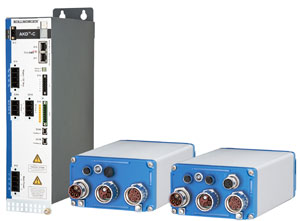 the system and can be deactivated on an individual or collective basis. This enables machine builders to achieve safety requirements without adding additional contactors to the panel. Typical applications include packaging machines and production systems in the food and beverage industry.
"With AKD-N Kollmorgen provides machine builders with the flexibility to utilize any Kollmorgen motor technology, while still implementing a system that decentralizes the drives into the machine chassis. Because the AKD-N is able to connect to all types of Kollmorgen motor technologies, the solution enables the machine designer to select for environment and load requirements like the perfectly clean IP69K rated stainless steel AKMH or the dynamic Kollmorgen direct drive platform of motors," says Reid Hunt, Product Line Manager. "This modular approach also optimizes the thermal properties of the drives and the cabinet, and by being mounted directly on the machine, distributed AKD-N servo drives significantly reduce cabinet volumes and cabling effort - in fact in certain applications, savings of over 80% can be achieved."
Because AKD-N distributed servo technology can be used alongside any servo drive in the AKD platform, AKD-N creates a new high water mark for ease of use in the building process for OEM's and maintainability in the field for end-users. Drives are quickly and easily installed by making three screw lock connections. Traditional panel mount systems involve cable chasing, panel wiring, tagging, and crimping - AKD-N eliminates these requirements.

ABOUT KOLLMORGEN
Kollmorgen is a leading provider of motion systems and components for machine builders around the globe, with over 70 years of motion control design and application expertise. Through world-class knowledge in motion, industry-leading quality and deep expertise in linking and integrating standard and custom products, Kollmorgen delivers breakthrough solutions unmatched in performance, reliability and ease-of-use, giving machine builders an irrefutable marketplace advantage.