The National State of Manufacturing Tour at Marlin Steel Recap!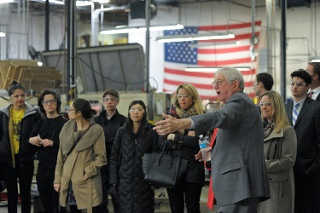 On Friday, February 5, 2016, Marlin Steel hosted the National Association of Manufacturer's 2016 National State of Manufacturing Tour at Marlin's Baltimore factory. This event marked the final stop on the NAM's 10-day, 7-state trip across America to discuss manufacturing industry topics with businesses and individuals.
What Happened at the Event?
The event kicked off with a speech about a new initiative by the NAM called "Power of the Small." This initiative is designed to highlight the importance that small-to-medium sized manufacturers have to the nation's economy by driving IP innovation and growing jobs for the middle class.
During the speech, NAM President and CEO Jay Timmons talked about how manufacturing has changed over the decades. In a statement for the Baltimore Sun, Timmons said that "our shop floors are no longer the factories of our parents' generation; they are state-of-the-art facilities driving an innovation revolution that will change our lives and strengthen our country."
This highlights an important point about manufacturing: that the industry has changed greatly, but the old preconceptions still remain from previous generations.
Hopefully, by discussing manufacturing issues in an open forum with the younger generation, events such as this one can help eliminate outdated preconceptions of manufacturing as dirty, dangerous, unrewarding work and encourage new generations to consider a career in manufacturing. The participation of students from the Maryland Institute College of Art and Digital Harbor High School shows that the tour is taking a step in the right direction.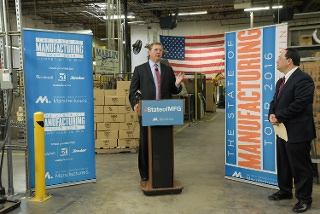 Eric Spiegel, the President and CEO of Siemens USA, also attended the event to participate in the discussion and take a tour of Marlin's facilities. Spiegel's attendance helped round out the event with a perspective of a large, and very successful, multinational manufacturer.
At the end of his discussion, Timmons restated his confidence in the future of manufacturing, but with some words of caution: "we still face challenges, which is why in this election year, we must hold candidates and leaders accountable and insist they support manufacturing not just with their words but also with their policies."
Once the discussion was finished, attendees were invited to take a tour of the Marlin Steel factory floor to see how Marlin operates as a custom metal form manufacturer.
Why Marlin?
The NAM had numerous choices for their last stop on the tour. There are literally thousands of American manufacturing businesses that they could have visited on their tour of the American manufacturing industry. So, why Marlin?
Jay Timmons stated during his speech at the Marlin factory that: "We're proud to conclude our tour at Marlin Steel… After meeting with students, manufacturers, community leaders and elected officials across the country, I have great confidence in the future of manufacturing."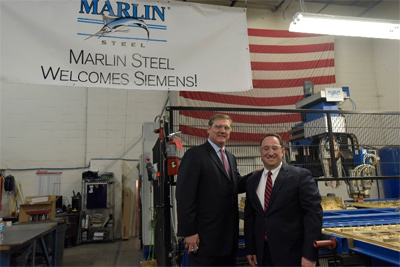 One of the reasons that Marlin Steel was chosen for the tour may just be how the company symbolizes the indomitable spirit of American manufacturing, how, in the face of severe adversity, an American manufacturer can still find success and growth by innovating and refusing to give up.
Years ago, Marlin Steel was faced with certain extinction when Chinese competitors flooded the market with cheap commodity bagel baskets—a market that was Marlin's primary source of income at the time. Unable to compete on price with government-subsidized companies that could sell baskets for less than the material cost of the steel, Marlin faced the very real possibility of bankruptcy and closure.
Yet, Marlin is still open, and more successful than ever.
Rather than trying to continue to compete in a market that was all about cost, Marlin moved to competing on precision, creating highly engineered custom steel wire baskets for other manufacturers such as Boeing and Lockheed Martin. In these markets, quality and speed of service trump cost, and Marlin Steel gained a new lease on life.
Another reason that the NAM might have chosen Marlin Steel could be how Marlin leverages technology and education to increase efficiency, precision, and competitiveness. Marlin's investments in technology have allowed it to meet tight parts tolerances that would have been impossible with older, manual manufacturing techniques.
Marlin also invests fully 5% of its payroll budget into employee training to teach workers new skills. This ensures that Marlin's workforce has the skills needed to operate Marlin's machines and find ways to improve efficiency on the production line.
These investments helped Marlin break away from the commodity basket market and into the precision basket market, revitalizing the company when it was on the verge of extinction. A major part of the post-event tour of the Marlin factory highlighted the automation equipment used by Marlin to produce custom metal forms.
Whatever the reason, it was an honor for Marlin Steel to be the anchor for the National State of Manufacturing Tour. Events such as this help to spread awareness about manufacturing and issues related to it not just among manufacturers, but among the public as well.
Everyone here at the Marlin Steel factory looks forward to helping promote the manufacturing industry to the public, and to hosting more events like the NAM's State of Manufacturing Tour.