The Lenze Smart Motor: a Single Motor for Many Applications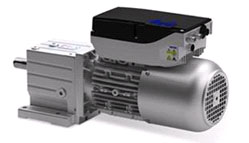 Leading global manufacturer of electrical and mechanical drives, motion control and automation technology, Lenze Americas recently introduced its innovative Smart Motor designed for applications ranging from material handling to packaging automation. This product uniquely blends the simplicity of a conventional AC motor with electronic drive control technology.

"In a complex world of motors, Smart Motor keeps it simple," states Robert Gradischnig, electro-mechanical business development manager, Lenze Americas. "The Smart Motor gives packaging customers the power and freedom they want in motion control, with freely adjustable speeds, programmable I/O and integrated functions for conveying needs. Fully programmable from a smart phone, the Smart Motor makes commissioning and diagnosis easier than ever."

Offering a highly versatile and powerful package, the Smart Motor delivers maximum standardization-drastically reducing (by up to 70 percent) the number of different motor variations customers might otherwise need. Equipped with control intelligence in the terminal box, the Smart Motor provides design flexibility for speeds from 500 to 2,600 rpm, while maintaining constant torque. The easy-to-install motor enables mains and starter applications to be handled with greater ease than with conventional motors.