The Largest Plastic Cable Carrier in the World
igus unveils cable carrier for offshore platforms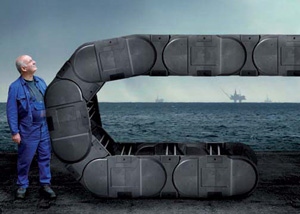 EAST PROVIDENCE, R.I. – November 18, 2008 – Cable carrier-expert igus® has launched the largest-ever plastic cable carrier in the world. The new Energy Chain® 'E4.350' is wear proof, maintenance free and resistant to seawater and mineral oil.
The giant cable carrier was primarily developed for demanding applications exposed to ice, wind, storm, salt water, oil and drilling mud in applications on offshore oil-drilling platforms. E4.350 can move nearly 50 feet up and down, which guarantees any heavy hydraulic cables are protected and guided when a drilling rig is skidded on to an oil platform, or during a drilling head's stroke, for example.
Cables can often be found hanging loose without any kind of guidance or protection on oil platforms. Maintenance-free E4.350 improves safety for this challenging environment. The cable carrier is made from igus' high-performance plastics and is completely corrosion resistant. The chain also offers a weight saving over comparable steel alternatives. Steel cable carriers are also usually custom-made, whereas the igus E4.350 will ultimately be available from stock.
The giant cable carrier has an internal height of approximately 14 inches and a variable inner width of eight inches to over three feet, giving a large internal capacity. Large cables and hoses with diameters up to around 12 inches are ably guided by the plastic chain, with loads possible in the region of 70 pounds per foot.
The E4.350's design ensures extremely high torsional rigidity and stability. Thanks to the interlocking links and the large bolted joint between them, movement is smooth. The design also significantly increases lateral stability and prevents the cable carrier from coming apart.
Integrated sliding surfaces, larger wear surfaces and extra-strong stop-dogs guarantee a long service life. Center links increase stability further and make it possible to extend the width of the cable carrier almost without limitation. Additionally, special outer and inner links ensure a straight run and quick assembly, especially compared to steel alternatives. A comprehensive, easy-to-assemble, modular range of accessories includes internal cable separators and shelving options.
The E4.350 series will be available in 2009. To request igus' most recent cable carrier catalog, call 800-521-2747.
About igus
igus Inc., founded in 1985 and based in East Providence, R.I., develops and manufactures industry-leading plastic cable carriers, continuous-flex cables, plastic bearings and linear guide systems. With more than 28,000 products available from stock, the company meets the motion control and machinery component needs of customers worldwide. Product lines include Energy Chain Systems® to protect and house moving cables, Chainflex® continuous-flex cables, iglide self-lubricating, oil-free, plastic bearings, DryLin® linear guide systems and igubal® spherical bearings. For more information, contact igus at (800) 521-2747 or visit www.igus.com.