The Importance of Choosing a Flexible OLP in the Early Stages of Automation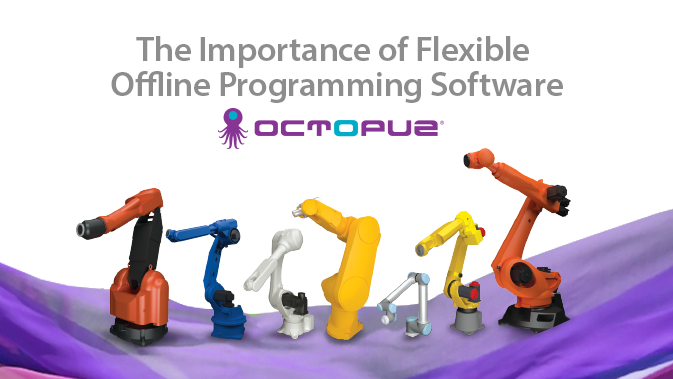 Choosing a flexible offline programming (OLP) solution for your company that is in its early stages of automation might seem like a daunting task to undertake. Software that only solves your current needs may limit your capabilities in the future, which is why it is important to make the right decision that benefits both your current situation and the future of your company.
OCTOPUZ can be used as a solution for this problem as it is one of the most flexible and affordable solutions on the market for your company in both the early and late stages of automation.
Investing in offline programming for your company is an investment in the future. Many solutions may suit a current need for a customer but ultimately limit your ability to innovate and grow in the future. OCTOPUZ has no limit on number of axes/ number of robots in a cell, so it can be used on many of the new innovative systems on the market which are dual-robot cells (or more). Not only does OCTOPUZ support new innovative robots such as collaborative or 7-axes robots, but due to our extensive technical support, we can program and support any kind of robot new or old. The goal of OCTOPUZ is to provide a flexible and affordable solution which is why all robot models and post-processors are included.
Another important consideration to make is the applications that your offline programming software supports. Many other programs are limited on the applications they can support, which ultimately narrow your capabilities in the future. OCTOPUZ supports any robotic application, which keeps your options open for future automation. Although there is a focus on path intensive applications, it is still a solution that can program and simulate things like pick & place, machine tending, and more.
Training and support are also important elements to consider. Ensuring that the offline programming solution for your company has flexible options to suit your unique situation is important for the future of your company. Businesses are not a steady state, as they are constantly changing, which means your needs will change with them. OCTOPUZ offers network options which allow the software to work in multiple locations and computers, which is a much more flexible solution for your company. Initial training for your team is with our Application Engineering team, who are experts in robot programming for various applications in industry. OCTOPUZ is looking for life-long customers as a one stop shop with implementation, training and support continuously for your lifetime use of OCTOPUZ.
Although choosing a flexible offline programming solution for your company may seem daunting, OCTOPUZ provides an easy, flexible, and affordable investment for your company to help you grow in the future. To learn more about OCTOPUZ, please visit our website.