The first ABB Robotics SVIA PickVision machine tending system installed in the US at Atlas Copco in July 2013
rong>System at Atlas Copco in Grand Prairie, Texas to tend three Okuma lathes that manufacture parts used in mining applications

AUBURN HILLS, Mich. – ABB Robotics and SVIA, LLC Industrial Automation announce that the first machine tending cell in the United States featuring SVIA's PickVision™ Smart Camera vision system and an ABB robot was installed at the Atlas Copco facility in Grand Prairie, Texas on July 19, 2013 .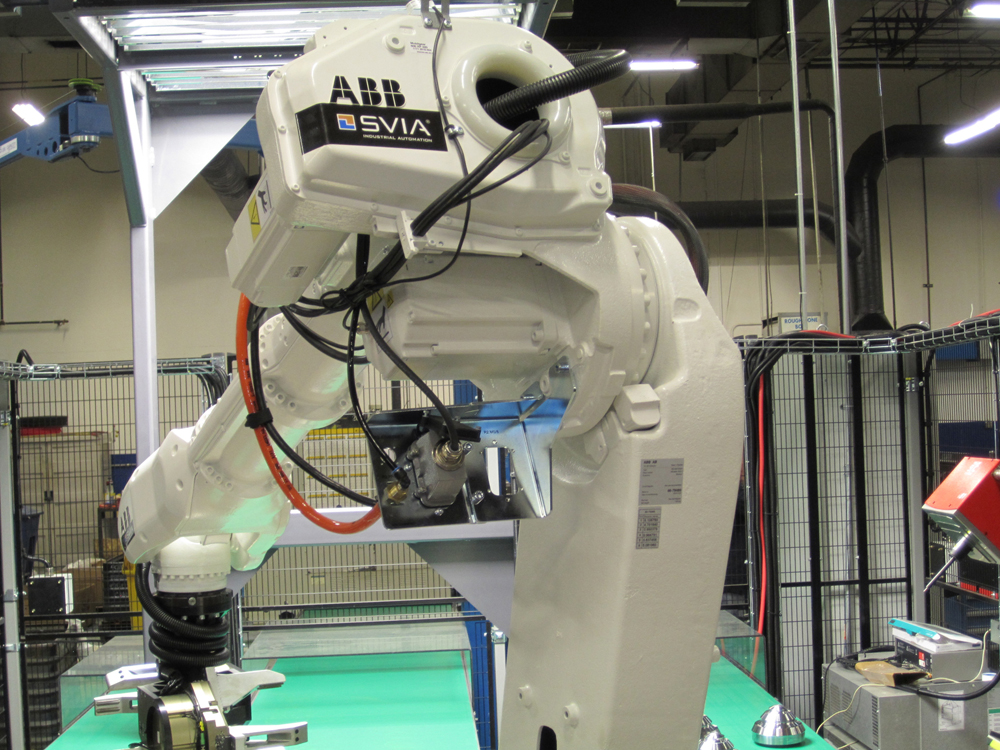 PickVision is highly flexible and easy to use making it a viable technology for a wide range of robotic applications that can be enhanced by giving robots vision capability. SVIA specializes in equipping industrial robots with vision enabled functionality for CNC machine tending systems in manufacturing for such applications as CNC lathes, vertical machine centers, horizontal machine centers and grinders. There are over 650 PickVision installations in Europe, the vast majority with ABB industrial robots.

The new Atlas Copco cell features an ABB IRB 6640 robot, three Okuma lathes and a Renishaw equator. The IRB 6640 will load and unload the three lathes, present finished parts to a dot peen marking system, and then load the parts on the equator for comparison measurements. The cell will replace a three-person-per-shift system, increasing the number of finished parts by 70% in a 20-hour working day, while moving the displaced workers to more rewarding jobs within the facility.

"The SVIA automated system is very simple, both in its operation and how it communicates with the robot and the lathes. When it's up and running it's as easy as operating an ATM," said Soren Herlufsen, production development engineer for Atlas Copco. "Much of the improved productivity the system will provide is due to the strength of PickVision and the versatility of the robot.

With PickVision robots actually see the parts they are handling, allowing them to easily adjust to a wide variety of parts. This increased flexibility makes the PickVision system ideal for operations that handle smaller volumes of the same part, and, due the speed and agility afforded by the smart camera function, also highly effective for operations that handle large volumes of the same parts. The system is tightly integrated with ABB's powerful IRC 5 Controller providing "plug and play" simplicity that allows users to easily set-up and adapt the system to their specific applications.

The Atlas Copco cell will handle a wide variety of part sizes within the medium and large range, with the IRB 6640 robot loading and unloading the largest parts, weighing 78 lbs each, two at a time. The system will also experience frequent changeovers, with the typical batch being between 30 and 80 parts. Batch changes will usually occur at least once every shift, with a changeover taking no more than 15 minutes.

"We have plans for doing extensive automation in our North American operations," said Herlufsen. "We have to keep up with China and India in terms of cost and speed. I expect the new automated CNC cell to be operating close to 24/7."

The Hartwig Dallas office is the Okuma machine tool integrator on the project, and has worked closely with SVIA and ABB on the installation. Hartwig team leader Stephen Draper commented, "We are very impressed with the capability of the SVIA, automated cell, utilizing PickVision system and ABB robot. The fit and finish of the integration was seamless, providing the perfect complement to the Okuma machine tools and Okuma THINC control. Okuma's Partner in THINC technology is even further on display with the incorporation of Caron Engineering's Auto Comp package and the Renishaw equator, forming a fully self-sufficient cell."

About SVIA

SVIA (www.svia.com) is a proven robot automation integrator in Europe and a strategic ABB partner. SVIA recently opened a US division; SVIA, LLC Industrial Automation, with its US headquarters in Houston, TX. SVIA has developed a unique vision system for guiding robots and its concept of standard automation solutions based on PickVision™ has driven double-digit growth for the last five years. The most common PickVision application is machine tending of CNC machines. SVIA strives to provide customers with unusually strong returns on their investments, and repeat orders from SVIA customers are over 75%.

About ABB
ABB is a leader in power and automation technologies that enable utility and industry customers to improve their performance while lowering environmental impact. The ABB Group of companies operates in around 100 countries and employs about 145,000 people.

About ABB Robotics
ABB Robotics (www.abb.com/robotics) is a leading supplier of industrial robots - also providing robot software, peripheral equipment, modular manufacturing cells and service for tasks such as welding, handling, assembly, painting and finishing, picking, packing, palletizing and machine tending. Key markets include automotive, plastics, metal fabrication, foundry, electronics, machine tools, pharmaceutical and food and beverage industries. ABB has installed more than 200,000 robots worldwide.