The Energy Saving App, Coval's software that measures energy savings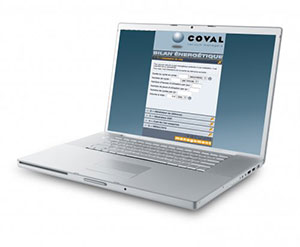 COVAL has been committed, for several years now, to improving the energy efficiency of their vacuum pumps. The French manufacturer of components and solutions for vacuum handling offers the Energy Saving App software, accessible online, which allows easy evaluation of energy savings made by an installation equipped with a vacuum pump using the ASC energy saving system.
ASC (AIR SAVING CONTROL) is an intelligent system which is used to stop consumption of compressed air as soon as the necessary vacuum level has been reached, avoiding any unnecessary consumption and ensuring energy saving during facility operations.
The Energy Saving App software measures the cost savings when using COVAL's LEMAX, LEMCOM or GVMAX vacuum pumps, both equipped with the new ASC technology, compared to a conventional vacuum pump.
Use of this software, unique in the vacuum world, is very intuitive. After entering the main characteristics of the installation (the duration of operating cycles, number of cycles, time of use, volume to be evacuated) the gain is displayed simultaneously in euros, in air volume and in percentage gain. In most cases it is very significant since it culminates with 97% of energy gain, in particular with the LEMAX.
Therefore, it is easy to see that investment in a COVAL pump equipped with ASC pays for itself on average after less than one year of use.
This COVAL exclusivity strengthens the vocation of the Vacuum Manager company and their desire to contribute to improving the energy and productive performance of each installation.
Note Covid-19: COVAL maintained its activity during the imposed confinement caused by the recent pandemic and ensured its customers always received the same level of great service. Today, life goes back to the normal and our teams are mobilized to support and respond to their customers' requests. They offer face-to-face meetings, videoconferences to discuss projects, face-to-face or distance training, and on-site or off-site testing.
About COVAL
COVAL. The vacuum you need. Where you need it, when you need it.
Established in the south of France, COVAL SAS designs, produces and markets high-performance vacuum components and systems throughout the entire world for industrial applications in all lines of business.
COVAL is an ISO 9001 V2015 certified company that innovates on a global scale in the area of vacuum handling using optimized components with integrated, intelligent and reliable features. Its solutions can be adapted to any industrial context and their primary goal is to improve productivity with safety in mind.
COVAL's clients are present in all major industrial fields in which vacuum handling is critical for efficiency and productivity. These fields include packaging, automotive, plastic processing, aeronautics, and palletizing.
COVAL markets its products and services throughout Europe as well as in North and South America through its subsidiaries and its network of authorized distributors.
Facts and Figures
Company
French company founded in 1986
Company size: 135+ employees
2018 revenue: €17 million
25 distributors in France and 35 international
5 subsidiaries: China, Germany, Italy, Spain, U.S.A.
Production site and head office: Montélier, France
Products
Vacuum pumps, suction cups, vacuum switches, vacuum grippers, accessories