The Bot Brief
"There is no force on earth more powerful than an idea whose time has come."
- Victor Hugo
Bots in The News: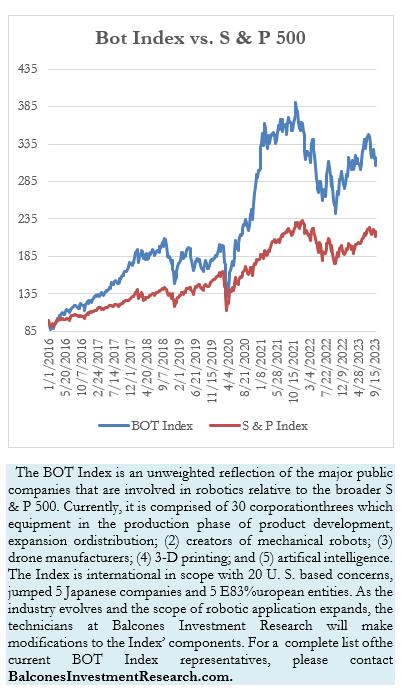 A rather disastrous report on the state of U.S. manufacturing was issued from the Philadelphia Fed Regional Manufacturing Index. The September posting showed a 26-point decline, from the prior month, in the level of manufacturing to a reading of -14. The consensus estimate had been for the number to be flat. Despite the downturn, the supply inflation (prices paid) rose to the 26 mark from 21. The announcement, together with the ongoing UAW strike, language from the Fed meeting and the inability to consummate a resolve on the House Budget Bill, all contributed to a lousy market last week.
The Bot Index fell 3.39% and the S & P 500 declined 2.93% with a significant downturn felt by most components of both indexes. The bots noted only 3 companies with positive returns, which were more than offset by two components that fell by double digits.
The best performer within the Bot Index was iRobot whose shares increased 6.38%. While there was no concrete news to account for the increase, there has been speculation regarding the EU's possible retreat from their antitrust concerns over the proposed Amazon merger.
Also gaining in last week's trading was Textron. The stock rose 2% following its latest order win from NetJets airline. Textron has clinched a record-breaking deal for delivering up to 1,500 additional Cessna Citation business jets to NetJets over 15 years.
AeroVironment Corp. continued its recent upward trajectory with another 76-basis point increase to be the only other gainer in the Bot Index.
The worst performances were recorded by the two EV companies within the Bot Index. NIO Inc. fell 18.22% as the company raised $1 billion in a convertible offering. Investors noted the high interest rates on the relatively short bonds and the dilutive effect of the conversion feature. Tesla declined 10.75% as Cathy Wood's Arc Innovation fund announce further liquidations of their holdings of the company, Fed Chair Powell's comments on interest rate increases and several international governmental bodies reported they would relax regulatory mandates regarding EV usage.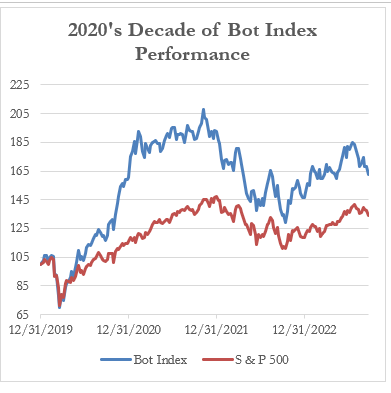 Member: American Economic Association, Society of Professional Journalists, United States Press Association. Institute of Chartered Financial Analysts, Robotic Industries Association (now A3 Automation), Member IEEE.
The Bot Brief is a weekly newsletter designed for economists, investment specialists, journalists, and academicians. It receives no remuneration from any companies that may from time to time be featured in the brief and its commentaries, analysis, opinions, and research represent the subjective view of Balcones Investment Research, LLC. Due to the complex and rapidly changing nature of the subject matter, the company makes no assurances as to the absolute accuracy of the material presented.