The Bot Brief
"There is no force on earth more powerful than an idea whose time has come."
- Victor Hugo
Bots in The News: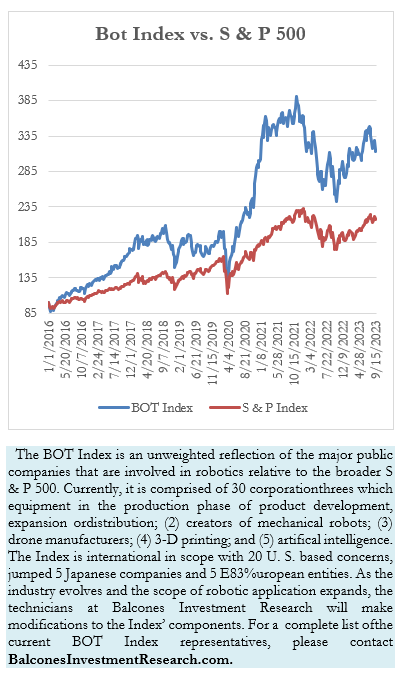 Despite some significant volatility on Thursday and Friday, the markets for the week ended in rather benign fashion. The Bot Index rose a mere 33 basis points while the S & P 500 fell 16 basis points. Inflation numbers from both the CPI and the PPI had unexpectedly larger increases than consensus projections.
There were only two outliers within the thirty stock Bot Index, one from each end of the performance spectrum. Tesla was the best performer and the only stock to move by double digits. The company gained 10.42% following a report of a major geological find of lithium within the U.S. According to early reports the lithium deposit near the border of Nevada and Oregon could be the world's largest and is more than double the quality found elsewhere. This discovery erased one of the concerns of cost and scarcity of the major component within EV batteries. The strength of Tesla's movement helped carry the price of NIO Inc. upward as well.
The two weakest companies within the bots were NVIDIA Corp. and Raytheon Technologies. NVIDIA's 3.67% decline was a result of the stock's technical position as analysts note the unwillingness of the shares to trade above $500. This capping mechanism tells technicians that the stock will have to undergo some consolidation before taking on a new upward trajectory.
Raytheon Technologies has a bigger problem which forced its stock down 9.20%. Its issue centered on management's notice that hundreds of their Airbus jets would be grounded at any one time in coming years to check for a rare manufacturing flaw. According to Reuters News, "In July, RTX disclosed it had found microscopic containments in powdered metal, used to manufacture high-pressure turbine discs that are part of engine's core, and presence of which could lead to cracks in the engine.
RTX said at that time that 200 engines would require "accelerated inspection" with 60 days to fix each engine with a contamination issue. However, on Monday RTX widened the scope of inspections, to pull around 600 to 700 engines off their Airbus jets and projected repair work to last up to 300 days per engine.
This announcement is likely to hang over the company for a prolonged period, impacting investors' perception of the stock.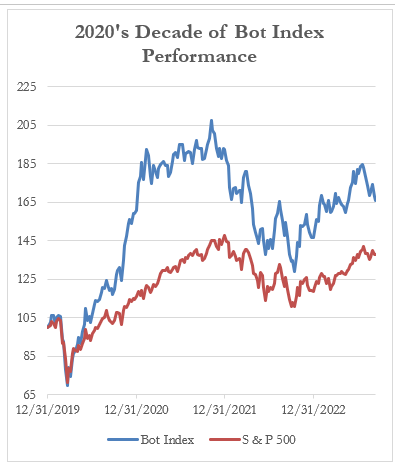 Defense Dollars Again:
In a follow-up to last week's discussion of Lockheed's Law regarding government spending on military personnel versus advanced systems, we have noticed another article regarding U.S. spending on AI enhanced drones. To counter an immense program that has already been initiated in China which focuses on AI drone swarm capabilities, the U.S. is hoping to counter with its own application of unmanned AI defenses. The Chinese military is developing multiple drone warfare operated in concert through a single system. In an effort that has been contrasted with the space race and the Star Wars Initiative, the U.S. has earmarked $1.8 billion for AI drones and unmanned warships. The use of computer vision is the hope of U.S. strategists to provide the competitive edge which would allow for 'catch-up' to Chinese advances.
In any regard, the face of defense spending and strategies will be dramatically changing. Companies associated with computer vision, drone manufacturing and advanced AI integrated defense providers will be the ultimate beneficiaries.
Member: American Economic Association, Society of Professional Journalists, United States Press Association. Institute of Chartered Financial Analysts, Robotic Industries Association (now A3 Automation), Member IEEE.
The Bot Brief is a weekly newsletter designed for economists, investment specialists, journalists, and academicians. It receives no remuneration from any companies that may from time to time be featured in the brief and its commentaries, analysis, opinions, and research represent the subjective view of Balcones Investment Research, LLC. Due to the complex and rapidly changing nature of the subject matter, the company makes no assurances as to the absolute accuracy of the material presented.