The Bot Brief
"There is no force on earth more powerful than an idea whose time has come."
- Victor Hugo
Bots in The News: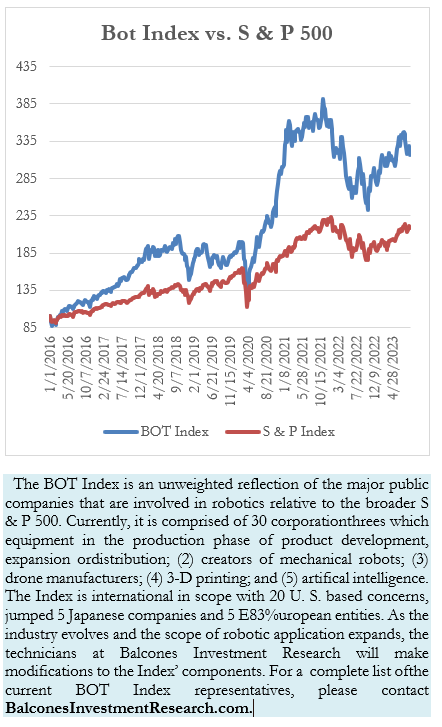 It was a dismal week for the robotic and automation stocks. The Bot Index fell 3.60% versus the S & P 500's decline of only 1.29%. Fully one-third of the components of the Bot Index decreased in excess of 5% and only two stocks gained virtually anything at all. 3D Systems was the worst performer with a decline of 15.27%. The stock has been on a slide since mid-July when it was almost double the closing price this week. Lower guidance by management has led to a consistent barrage of lower earnings expectations by Wall Street analysts.
NIO Inc. fell 8.73% as the Chinese economy continues to spiral downward, price wars and rising unsold inventories plagued this EV manufacturer. A Wall Street article entitled, "7 EV Stocks to Sell in September Before They Crash and Burn" didn't help the stock either.
Ark Investing's Cathy Wood has been reducing their positions in NVIDIA Corp. The selloff helped bring down this 'icon of AI' by a little over 6%.
Lockheed Martin (who is mentioned later in this issue) fell 5.60% as it lowered its deliveries for F-35.
Oceaneering International continued its recent climb with this week's 3.37% increase and AeroVironment produced the best results, giving investors a 15.74% return. AeroVironment's 3rd quarter noted a $.74 earnings beat and record-breaking backlogs up 27% over the prior quarter. The company also indicated it was acquiring Tomahawk Robotics whose AI robotic control systems are expected to enhance the firm's Switchblade attack drones that have been so successful in the Ukraine/Russia conflict.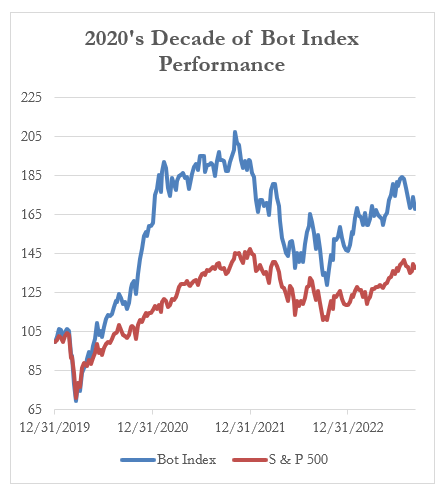 Defense Dollars:
In its Free Exchange feature in the June 24th edition of The London Economist Magazine, there was an interesting discussion surrounding the hypothesis of an economist named William Baumol of New York University. His work centered on the differential between what he termed cost disease versus Lockheed's law. Baumol postulated that labor intensive industries such as healthcare and education only peripherally benefit from advances in technological innovation. Industries, such as in defense manufacturers can utilize productivity enhancements to grow and pay better wages. Thus, the firms with cost disease must match those salaries in order to retain the irreplaceable employees. Therefore, they cannot obtain the profitability of their less labor-intensive competitors nor do their narrow margins provide the ability to reinvest for future growth or financial strength.
Since Baumol's postulations have been termed Lockheed's Law, The Economist's article focused on how the defense manufacturers are becoming the beneficiaries of expansions of expenditures consistent with these heightened world political tensions. With increasing budgets by the NATO members and hostilities between Russia and the Ukraine the article hinted that new defense commitments could amount to $700 billion. While defense personnel are certainly a cost, the Lockheed's Law suggests that "an arming NATO will be more about buying additional and superior equipment rather than going on a hiring spree….Western countries remain mostly committed to the idea that quality beats quantity. Better, the logic goes, to have a smaller army equipped with state-of-the-art artillery, tanks, planes, and equipment than a bigger one with a rusty kit."
With five of the components within the thirty stock Bot Index in the defense sector, the increase in spending will likely have a positive impact on the automation industry.
Member: American Economic Association, Society of Professional Journalists, United States Press Association. Institute of Chartered Financial Analysts, Robotic Industries Association (now A3 Automation), Member IEEE.
The Bot Brief is a weekly newsletter designed for economists, investment specialists, journalists, and academicians. It receives no remuneration from any companies that may from time to time be featured in the brief and its commentaries, analysis, opinions, and research represent the subjective view of Balcones Investment Research, LLC. Due to the complex and rapidly changing nature of the subject matter, the company makes no assurances as to the absolute accuracy of the material presented.