The Bot Brief
"There is no force on earth more powerful than an idea whose time has come."
- Victor Hugo
Bots in The News: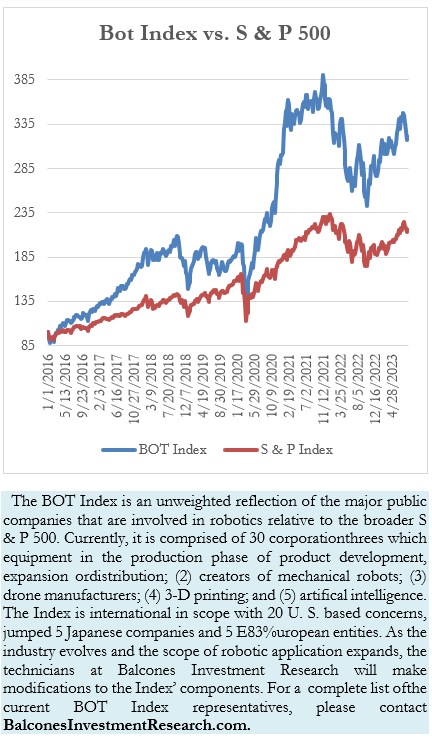 In 1968 during the Democratic National Committee's Convention in Chicago, a number of protestors chanted, "The whole world is watching". There may have been a similar chant by investors in last week's trading. There were two significant events that investors were monitoring closely to help determine the course of the markets for the remainder of the year. The first was NVIDIA Corp's earnings. The second was the speech prepared by Fed Chairman Powell on the course of interest rates.
With regard to the first impactful event, NVIDIA Corp. produced second quarter earnings of $2.70, which was $.67 better that Wall Street estimates. The bottom line was prompted by the firm's $13.5 billion in revenues which bested the Streets $11.13 consensus. Guidance was for the third quarter to produce sales of $16.16 billion. Consistent with those impressive numbers, the company announced a continuation of its buyback program to $20 billion. The stock was one of the week's few gainers with over 5% with its 6.28% gift to investors.
Chairman Powell's speech perpetuated his hawkish stance with an affirmation of the Fed's inflation target of 2% and a comment that the policy would "proceed carefully….and officials would decide whether to tighten further or, instead, to hold the policy rate constant and await further data." The comments were generally in line with expectations and the broad market gained 83 basis points for the week. The Bot Index, however, bested the S & P 500 with a 1.10% gain.
In addition to strength by NVIDIA, the bots were aided by a 10.70% jump by Tesla and a 5.79% increase in iRobot. Tesla's strength came following a Model 3 refresh and hints that the new cybertruck is near production.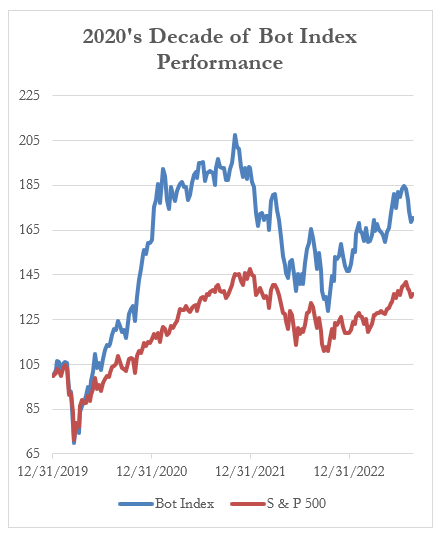 Member: American Economic Association, Society of Professional Journalists, United States Press Association. Institute of Chartered Financial Analysts, Robotic Industries Association (now A3 Automation), Member IEEE.
The Bot Brief is a weekly newsletter designed for economists, investment specialists, journalists, and academicians. It receives no remuneration from any companies that may from time to time be featured in the brief and its commentaries, analysis, opinions, and research represent the subjective view of Balcones Investment Research, LLC. Due to the complex and rapidly changing nature of the subject matter, the company makes no assurances as to the absolute accuracy of the material presented.