The Bot Brief
"There is no force on earth more powerful than an idea whose time has come."
- Victor Hugo
Bots in The News: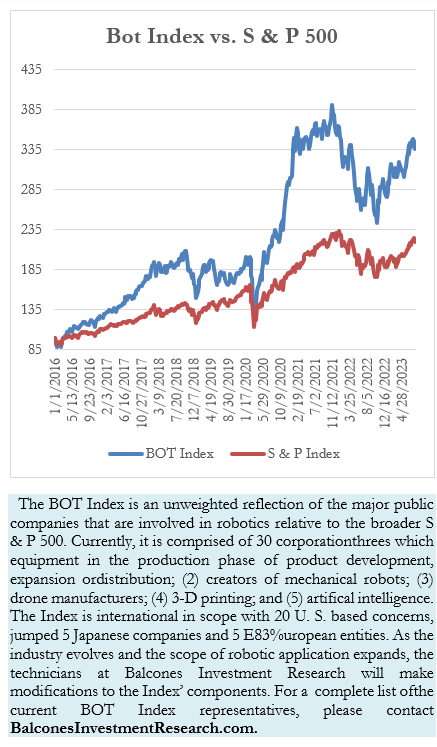 Strong consumer spending led by core retail sales rose by 1% in July, which was double the consensus expectation. This led to rising interest rates and fears that the upcoming Fed Chairman Powell's Jackson Hole speech will reflect continued concern over the prospects for inflation. With a probable hawkish stance, the equity markets took another pounding last week, giving up 2.11%.
The Bot Index fell 3% as eight of its thirty components declined in excess of 5%. The two EV firms NIO Inc. and Tesla were, however, the only double-digit decliners as pricing reductions and Chinese economic woes weighed heavily on investors. The comment by Ford's CEO Jim Farley regarding his recent cross country EV trip did not help the electric car industry. He noted the significant challenges of charging as being a 'reality check' for EV owners. Furthermore, he noted that his company was "losing billions on our EV business. Consequently, NIO plunged 17.28% and Tesla declined 11.19%.
3D Systems continued its slide another 8.38% as investors were disappointed in the weaker than expected earnings and revenues for the recent quarter.
Institutional darling Intuitive Surgical fell a bit over 6% on high volume Thursday and Friday which took the stock down 15 points in the two days.
Cognex Corp. fell 5.77% after Simply Wall Street concluded the stock was overvalued by 31%.
Two Japanese companies, Yaskawa Electric and OMRON fell 7.04% and 5.79% respectively.
There were only two gainers of noteworthiness during the week. NVIDIA Corp. rose almost 6% after 5 analysts on Wall Street reiterated their positive assessment of the company and its dominant position in AI. Teledyne Corp. gained 5.28% after Goldman Sachs upgraded the company to a 'buy' rating due to the extremely low valuation of the stock.
Where There's Smoke, There's Fire. Where There's Hydrogen, There's Plenty of Money:
Several interesting events surrounding the development of hydrogen fusion were reported this week. The Paris air show highlighted three companies that are in the process of creating prototype aircraft utilizing hydrogen power.
Arstechnica reported that a French company, Beyond Aero, has developed a fuel cell system that generates an 85-kilowatt powerplant for an ultralight airplane. With this venture the company hopes it will be a precursor towards a fleet of business aircraft of 8.5 tons and a seating capacity of 4-8 passengers. The firm hopes to be in the air by 2030.
A second venture noted in the arstechnica article was a British/American company (ZeroAvia)that will use fuel cell propulsion on existing crafts. The retrofitted aircraft will not have the range of their previous engines due to the increased weight. The firm is testing the fuel cell on existing 19-seat Domier turboprops. The company thinks the retrofitting will speed up the approval process and they can get aircraft going as soon as 2025, with a potential partner within the Bot Index – Textron.
The Zeroe's research project of Airbus is looking to present a 2026 demonstration of its proposed fuel cell. The company's stated objective is to ultimately have engines for a regional 100-seater air-transport vehicle.
As the August issue of the IEEE Spectrum noted, "fusion power is now a solvable engineering challenge rather than an eternally elusive scientific puzzle. That challenge can't be met soon enough. And with billions of dollars of government funding and private investment and research from giant international projects fueling these companies, there's real hope that within the next few years, we might start to see the technology stack necessary to help wean the world off fossil fuels."
One of our old colleagues from Laffer Associates has been frequently cited in the Bot Brief for his company's hydrogen storage systems. Andrew Coors' Steelhead company is active in hydrogen storage for zero-emission applications and launch/propulsion solutions for aerospace. With 200 worldwide customers, the Golden Colorado firm is emblematic of the growing interest in hydrogen fuel cell development.
Member: American Economic Association, Society of Professional Journalists, United States Press Association. Institute of Chartered Financial Analysts, Robotic Industries Association (now A3 Automation), Member IEEE.
The Bot Brief is a weekly newsletter designed for economists, investment specialists, journalists, and academicians. It receives no remuneration from any companies that may from time to time be featured in the brief and its commentaries, analysis, opinions, and research represent the subjective view of Balcones Investment Research, LLC. Due to the complex and rapidly changing nature of the subject matter, the company makes no assurances as to the absolute accuracy of the material presented.