The Bot Brief
"There is no force on earth more powerful than an idea whose time has come."
- Victor Hugo
Bots in The News: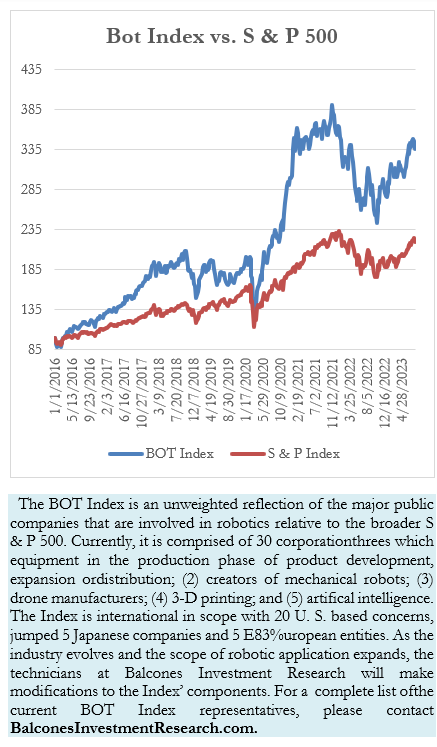 It would have been much worse than the final tally of the Bot Brief's first week of August performance had it not been for Azenta Corp. Even with Azenta's 18.4% gain, the Bots fell two hundred and thirty basis points below the S & P 500.
Azenta's gain was based upon its surprise earnings strength for the company's third quarter. Revenues for the quarter rose 12% from the prior quarter and 25% in year-over-year performance. Earnings, while a negative 2 cents were significantly better than the 13-cent loss last year. It might be worth noting that there were significant purchases of stock by insiders over the year.
Three companies were hit by double digit declines in the week. The worst was the cyberknife company, Accuray Inc., who saw a downslide of over 26%. The company was just added to the Russell 2000 Index which stimulated some purchasers in previous weeks, however, they were not pleased with the reported earnings of a 10-cent loss which was below last year's 6 cent loss and Wall Street consensus earnings of 7 cents.
NIO Inc. fell 12.36% following a judge's ruling that will allow investors to sue the company for lying about its Shanghai factory. "The lawsuit in federal court in New York seeks damages from Nio, its executives and underwriters for a decline in share price after the carmaker said in March 2019 that it had scrapped plans to build the new factory it had said was "under construction" during the IPO."
3D Systems fell 12.19% as investors were disappointed by the quarter's revenue. With the company losing $.07 (same as last year), revenues fell to $128.19 million as opposed to the 2022 number of $140.05 million.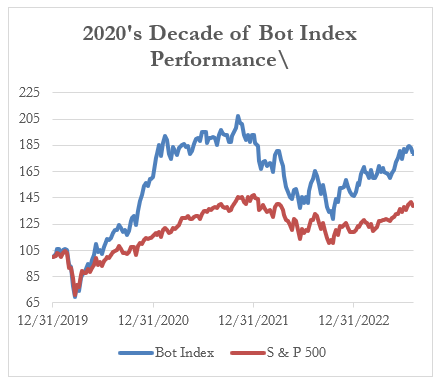 Needed:
A client of Balcones Investment Research is looking for a company that can apply a series of artificial intelligence techniques into credit evaluation and marketing.
Member: American Economic Association, Society of Professional Journalists, United States Press Association. Institute of Chartered Financial Analysts, Robotic Industries Association (now A3 Automation), Member IEEE.
The Bot Brief is a weekly newsletter designed for economists, investment specialists, journalists, and academicians. It receives no remuneration from any companies that may from time to time be featured in the brief and its commentaries, analysis, opinions, and research represent the subjective view of Balcones Investment Research, LLC. Due to the complex and rapidly changing nature of the subject matter, the company makes no assurances as to the absolute accuracy of the material presented.