The Bot Brief
Bots in The News: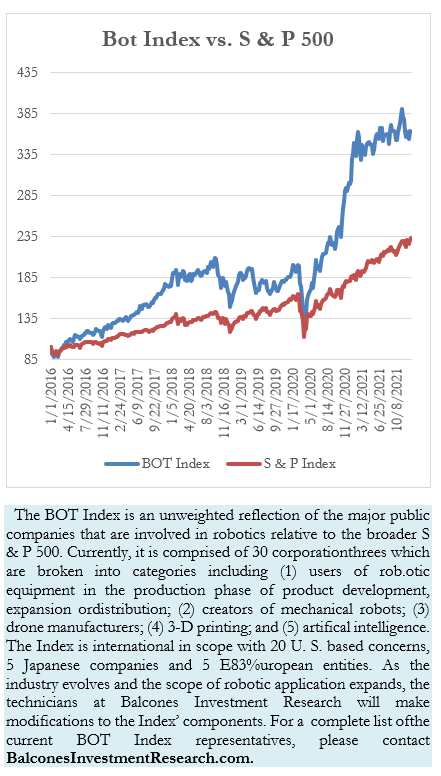 The year end graphs below indicate the movement of the components of the Bot Index over the long history of the Index verus the S & P 500. As a special report, the graph below shows the performance of both the Bot Index and the broad market over just the past year. The ranked performance of the component follow the the graph to the left.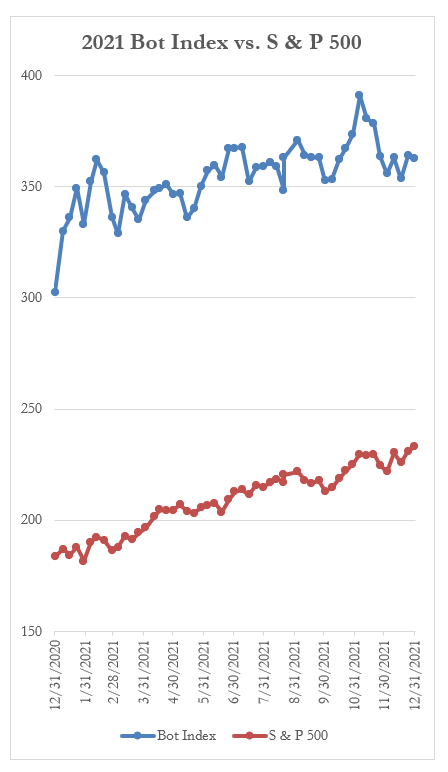 As noted in the above graphs, the momentum held by the Bot Index versus the S & P 500 had begun to wain in the past year. While the broad market expanded by almost 27% in 2021, the Bot Index rose a mere 20%. Certainly, the volatility of the bots was greater than the steady climb experienced by the S & P 500. The table below indicated the performance of each of the Bot Index components for the past year.
NVDIA Corp 125%
3D System 106%
Google 65.15%
Textron 59.74%
Azenta (Brooks Automation) 52.76%
Tesla 49.76%
Oceaneering Intl. 42.26%
Rockwell Automation 39.09%
ABB Ltd. 36.51%
Apple 33.82%
Intuitive Surgical 31.76%
Northrup Grumman 27.02%
Raytheon 20.35%
Lincoln Electric 19.97%
Accuray Inc. 14.39%
OMRON Corp. 12.26%
Teledyne 11.46%
Keyence 11.38%
Amazon 2.38%
Lockheed Martin .12%
Faro Tech -.86%
Yaskawa Electric -1.19%
Cognex -3.14%
Fanuc -13.77%
iRobot -17.95%
Hiwin Tech -20.29%
AeroVironment -28.62%
NIO Ltd. -35%
Immersion Corp. -49.42%
Cyberdyne -55.09%
Member: American Economic Association, Society of Professional Journalists, United States Press Association. Institute of Chartered Financial Analysts, Robotic Industries Association, Member IEEE.
The Bot Brief is a weekly newsletter designed for economists, investment specialists, journalists, and academicians. It receives no remuneration from any companies that may from time to time be featured in the brief and its commentaries, analysis, opinions, and research represent the subjective view of Balcones Investment Research, LLC. Due to the complex and rapidly changing nature of the subject matter, the company makes no assurances as to the absolute accuracy of material presented.