The Bot Brief
"There is no force on earth more powerful than an idea whose time has come."
- Victor Hugo
Bots in The News: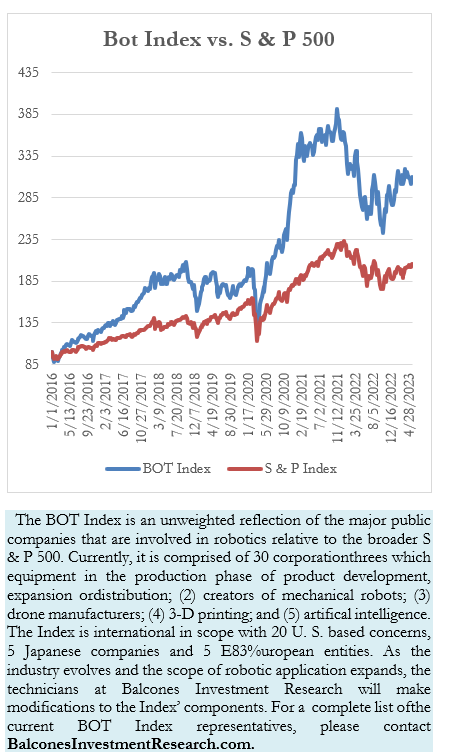 With only two of the Bot Index's components producing negative returns for the past week, it is not surprising that the bots well outperformed the broad market. The Bot Index gained 2.76%, which was over 100 basis points better than the S & P 500. Six of the components had returns exceeding 5% and one of those rose by double digits.
NVIDIA Corp. led the gainers with a 10.32% increase. The company is due to report earnings of $.92 on Wednesday. Carrying a triple digit P/E ratio, investors are continuing to support NVIDIA's leadership in the AI market. However, there is little room for any disappointment with the stock having moved from $146 to $312 since the start of 2023.
With the announcement that Tesla will begin mass production of autonomous robo-taxis in 2024, the stock bounced 7.24% last week. Arc Investment's Cathy Wood produced a valuation that would carry the stock up to $2,000 by 2027. With the stock hovering around $176, Ms. Wood's expectations represent a gain exceeding 1000 percent.
Since reporting disappointing earnings on May 3rd, the stock of Faro Technologies was cut in half and its CEO was replaced. This week, however, the stock experienced somewhat of a 'dead cat bounce' of 7.54%. A lead director purchased over a quarter million in the company's stock, which represented a 443% increase in their holdings.
Both Cognex and Azenta Corp. bounced back from recent disappointing earnings and stock performance. Cognex rose 6.59% while shares of Azenta increased 5.45%.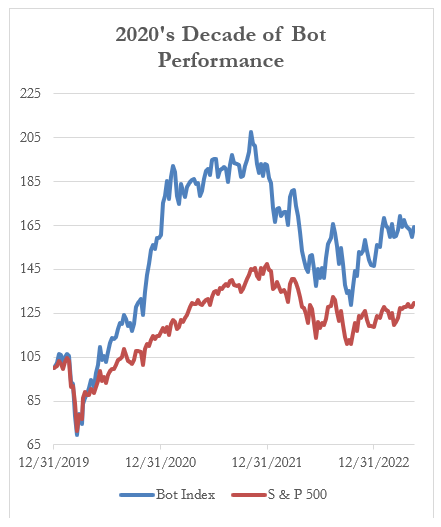 Amazon Corp. jumped 5.43% after the Commerce Department noted consumer spending rose .4% in April, with general merchandise stores up .9%.
Member: American Economic Association, Society of Professional Journalists, United States Press Association. Institute of Chartered Financial Analysts, Robotic Industries Association (now A3 Automation), Member IEEE
The Bot Brief is a weekly newsletter designed for economists, investment specialists, journalists, and academicians. It receives no remuneration from any companies that may from time to time be featured in the brief and its commentaries, analysis, opinions, and research represent the subjective view of Balcones Investment Research, LLC. Due to the complex and rapidly changing nature of the subject matter, the company makes no assurances as to the absolute accuracy of the material presented.E.