The Bot Brief
There is no force on earth more powerful than an idea whose time has come."
- Victor Hugo
Bots in The News: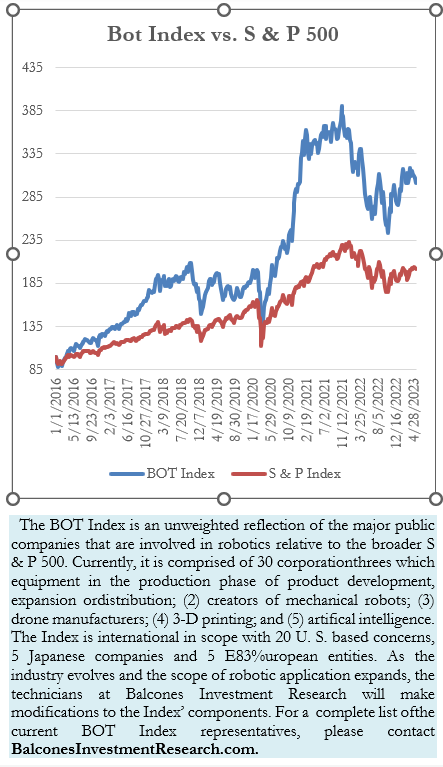 The second full week of May turned in only tepid results in equity markets. The broad market fell a slight 29 basis points while the more volatile Bot Index slid 1.94%. Virtually all the weakest stocks among the bots were subject to investor disappointments with the March quarter earnings reports.
The market woes of Faro Technologies continued as its share price again led the losers in the Bot Index. The stock traded down another 17.18% following its spectacular 41% collapse of the previous week. Earnings tore into shareholder psyche sufficiently to promote the replacement of the company's CEO.
Azenta Corp. was the second weakest component of the index as its stock retreated 11.38%. The March quarter noted a 17% revenue decline from the prior quarter and a 2% slide from the comparable 2022 quarter. The earnings from continuing operations fell 6 cents versus a 12-cent gain year over year. The results prompted management to announce a business 'streamlining' that is expected to reduce $15 million in future costs. That's usually a bad sign!
3D Systems also fell due to a disappointing quarter. Analysts had forecast that 3D Systems would lose $0.07 per share on sales of $128 million. As it turned out, the company's losses were $0.09 per share on sales of only $121.2 million.
Google was the top performer among the bots as it jumped 11%. Supporting the increase was the announcement by management of new products and enhancements in its annual Google I/O event. Investors were clearly impressed with AI advances that Google introduced into a series of its consumables.
Amazon gained 4.35% as Morgan Stanley included the stock in its 5 top pics for 2023.
Finally, bucking the trend of the other defense holders who performed poorly this week, AeroVironment gained 4.35%. It announced a new vertical lift off drone to its arsenal and was promoted in a Financial Times article that noted the effectiveness of high-tech defense goods in the Russia/Ukraine conflict.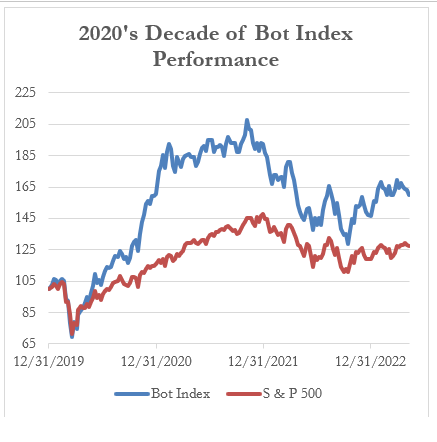 AI Introduced a New Era of Uncertainty:
There have been several recent articles focusing on growing fears of the negative impacts of artificial intelligence. Just last week Warren Buffett expressed his fear that AI could be a pandora's box that once opened cannot be undone. To emphasize his concern, Mr. Buffett publicly stated that AI's rise could be compared to the creation of the atomic bomb. Similar concerns have been raised by Elon Musk who noted, "it has the potential of civilization destruction." Even Bill Gates, whose Microsoft-backed OpenAI is an AI pioneer, has expressed, "We're all scared a bad guy could grab it." Just last week on national television, Ian Bremmer of the Eurasian Group noted, "we've never seen this level of malevolent power that will be in the hands of bad actors." He said AI technology that is "vastly more dangerous than an AR-15" will be in the hands of "millions and millions of people." While it is unlikely that neither the absolute worst apprehensions nor the most favorable potentials of the widespread application of AI will come to fruition, it is certain that AI will have dramatic implications to civilization.
One of the most likely outcomes of AI will be involving future employment. Given the fact that AI will develop to exceed the mental capacity of humans, there is a prospect that there will be a reversal in the status of tradesmen versus professionals. Lawyers, journalists, doctors, and corporate managers will certainly be negatively impacted by AI. On the other hand, plumbers, electricians, construction workers and other tradesmen, whose skills are likely to not be usurped by AI, may well emerge as the most valued professions. We are already seeing an increase in the wages earned by the non-professional sector as noted below from an excerpt from Manufacturing Millennial: