The Bot Brief
"There is no force on earth more powerful than an idea whose time has come."
- Victor Hugo
Bot News: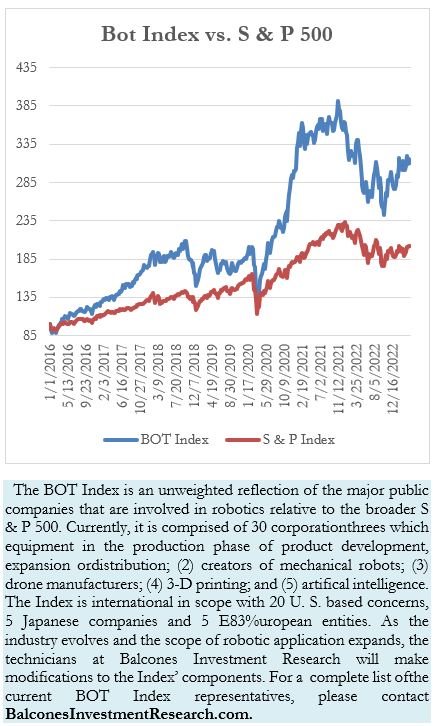 While the broader markets were virtually unmoved in week-to-week performance, the Bot Index cratered 1.60%. Five components of the Bot Index fell in excess of 6%, while three of those decliners' retreats were into double digits. Only the favorably reported earnings of Intuitive Surgical kept the bots from experiencing a much greater decline. Intuitive Surgical's earnings and procedures increased in a rather dramatic fashion for the quarter, bumping the stock up 12.43%. During the March quarter, procedures grew 26%, well above the 14%-20% quarterly gains that the company experienced in 2022. Revenues from procedures and products increased 14% to $1.7 billion and adjusted profit climbed almost 9%, both exceeding Wall Street expectations.
With little formal news, shares of the haptics company Immersion Corp. led the losers during the week with a 13.83% decline. After producing a serious recovery which pushed the stock from $4.66 one year ago, to the start of the week's $8.38, investors used the gains to take profits in this volatile stock market.
Both Tesla and NIO Inc. slid by just over 10% for the week as Tesla continues to forsake profit margins for market share growth. Reducing prices on many of its models, Tesla seems to be pursuing a cut-and-burn tactic to punish its competitors. The strategy has long term repercussions if it successfully expands its market share, however, will impact shorter term earnings for the company. The corporation's well-known balance sheet strength will be employed to support the new corporate direction.
Azentia Corp. fell consistently on high volume starting the prior Friday until, on weak volume, the stock recovered somewhat. For the entire week the company's stock slid 6.81%.
Hiwin Technologies declined 9.16% in a week filled with concerns over the Chinese threat to Taiwan's independence.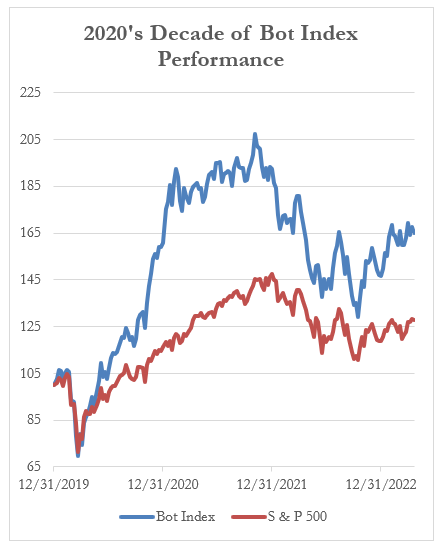 Quite a Bit of Bot Headlines:
The momentum surrounding robotics and AI has continued in the past couple of weeks as interest in automation dominates headlines.
The Wall Street Journal ran an article about a newly incorporated AI venture of Elon Musk. Any time Mr. Musk sets his mind toward the development of a 'breakthrough' product, the world pays attention. His latest endeavor is aptly titled X.AI and will be an attempt to compete in this every expanding world of artificial intelligence. Musk's fascination with the use of 'X' in many of his enterprises may signify either that the X is a metaphor for 'ten' or in judging terms 'the best'. It could, as in SpaceX reveal its 'exploration' objective. In any regard the world is likely to see many more variations of the X moniker. Musk also refers to one of his children as X!
X.AI's stated goal will be to directly compete against consumable AI products, specifically ChatGPT. Musk has long been concerned of the dangers of AI and vows his latest X venture will strive to avoid the pitfalls of bias programing.
According to the firm, Carbon Robotics, the company has developed an agricultural robot that "leverages robotics, artificial intelligence (AI), and laser technology to safely and effectively drive through crop fields to identify, target and eliminate weeds. Unlike other weeding technologies, robots utilize high-power lasers to eradicate weeds through thermal energy, without disturbing the soil. The completely autonomous robots allow farmers to use fewer herbicides and reduce labor to remove unwanted plants while improving the reliability and predictability of costs, crop yield, and more."
In a televised interview, a Nobel laureate professor from the London School of Economics, Sir Christopher Pissarides explained how automation will ultimately permit the workweek to be reduced to only four days. By augmenting human capacities through enhanced productivity, corporate output that is of current experience, can be accomplished in much less time. While not particularly a novel concept, the 'normalization' of perceptions of automation's impact upon labor is gaining traction.
Not far from our Texas operations, Balcones Investment Research has noted a new neighbor hood of 3D printed homes is being developed in Georgetown. Wolf Ranch is a joint venture of ICON, Lennar and Bjarke Ingels Group that will create the world's largest technology-driven community. The groundbreaking is expected this June and homes will start in the mid $400,000 range. Georgetown is just outside Austin which is home to numerous high-tech companies.