The Bot Brief
"There is no force on earth more powerful than an idea whose time has come."
- Victor Hugo
The Bot Brief: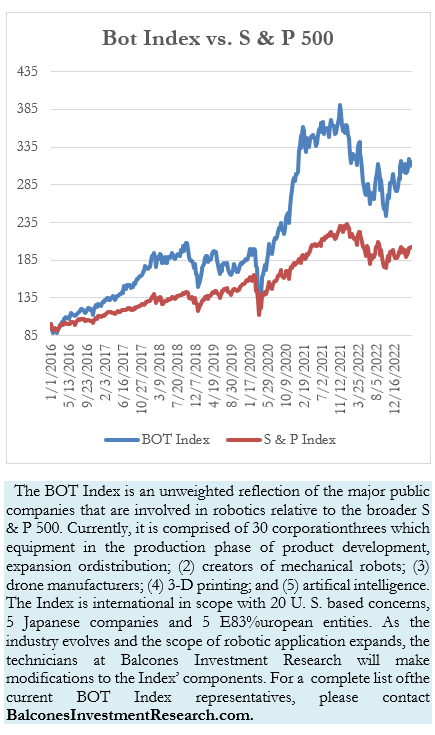 Thanks to all the Asian components generating positive moves last week, the Bot Index rose 1.96%. That figure compares with the mere 79-basis point increase by the S & P 500, widening the positive performance gap the bots have over the broader market.
Five of the robotic stocks experienced gains of five percent or greater. The best performer for the week was the Swiss firm ABB Ltd. The company rose 6.42% following a Zacks article that noted the company is expecting double digit revenue growth in the first fiscal quarter. The article explained that the company is benefiting from a healthy demand environment across most segments despite headwinds from supply chain disruptions, cost inflation and adverse foreign currency movements.
Oceaneering International gained 5.53% as the second best performer for the week. In an investor letter issued by Aristotle Small/Mid Cap Equity Strategy noted, "We believe the company's strong portfolio of technologically advanced products and services remains well?positioned to benefit from a recovery in its offshore activity. Additionally, we believe the company's Mobile and Subsea Robotics may garner increased interest moving forward, as automation lowers on?site personnel requirements and enables remote supervisory control."
Other major gainers included Accuray Inc., up 5% and Azenta Corp. who rose 5.95%.
Of the only six negative performers for the week two had notable declines. 3D Systems dropped 2.6% and NVIDIA Corp. slid a bit over one percent as competition in the AI chip wars heated up.