The Bot Brief
"There is no force on earth more powerful than an idea whose time has come."
- Victor Hugo
Bots in The News: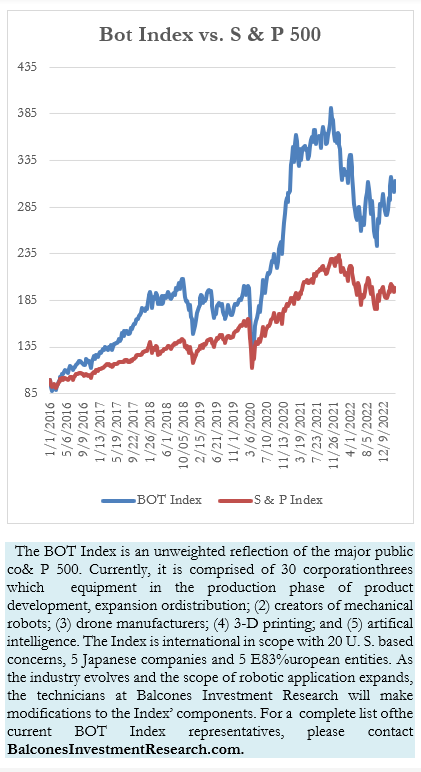 Henry Standing Bear invariably answers the phone in the Netflix hit series Longmire with, "It is a beautiful day at the Red Pony Bar and continual soiree." So too it was a beautiful week at the investment market soiree during the first trading session of March. The Bot Index gained 3.69%, almost double the return achieved by the S & P 500.
Of the thirty stocks that comprise the Bot Index, only four recorded losses for the week, and those were minimal. The Taiwanese firm Hiwin Technologies led the losers with a 1.79% decline. The only other three stocks that finished the week in negative territory were defense-related companies – Northrup Grumman (-.75%), Raytheon Technologies (-.60%) and Lockheed Martin (-.52%).
The Bot Index was boosted by three stocks that experienced double digit increases. The best results were posted by 3D Systems who gained 14.03%. The company reported fourth quarter revenues of $132.7 million, down 12% from the year-ago quarter, however outpaced the consensus mark of $132.3 million. Earnings per share were at negative 6 cents which was better than last year's negative 9 cents and Wall Street expectations of negative 8 cents. The stock has been in a volatile trading pattern of late with five of the past six weeks having experienced double digit increases or declines.
Yaskawa Electric led a host of Japanese companies with its 10.85% increase over the week. Joining YASKY were Fanuc (+7.93%), OMRON Corp. (+7.14%) and Keyence Corp. (+5.10%).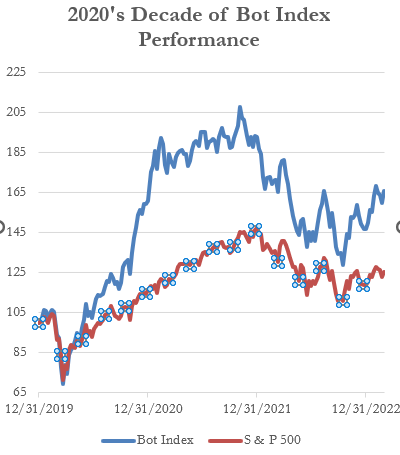 Don't Blame the Low Labor Participation Rate on AI and Robotics:
Recent headlines on job cuts in technology and professional industries would have you believe that AI's ChatGPT and advanced robotics are the catalysts that are replacing human labor. Indeed, there is a bit of a conundrum regarding employment statistics…..low unemployment, low labor participation rate, layoffs and yet a significant need for laborers in certain industries. Certainly, the pandemic forced many older workers to retire earlier and corporations to utilize 'at home' labor to fill gaps. Unfortunately, due to stimulus payments and other gig employment opportunities, many have chosen to not seek employment. Same might be said about the educational system with so many college grads finding out that their degrees have not prepared them for work-a-day careers.
One of the items that has not been adequately broached is the wealth transfer that has and is occurring due to demographics. There are estimates that the Millennial generation is set to inherit as much as $68 trillion from their parents - the Baby Boomers. With 1.1 million American deaths as a result of the Covid-19 pandemic, the Boomers were the hardest hit demographic sector. Certainly, inheritance by the Millennials was accelerated and is probably a leading cause in the overall low labor participation rate.
So when headlines point to robotic labor as a cause for layoffs, keep in mind that there is little reason to work when you have unexpected capital flow from inheritances.
Member: American Economic Association, Society of Professional Journalists, United States Press Association. Institute of Chartered Financial Analysts, Robotic Industries Association, Member IEEE.
The Bot Brief is a weekly newsletter designed for economists, investment specialists, journalists, and academicians. It receives no remuneration from any companies that may from time to time be featured in the brief and its commentaries, analysis, opinions, and research represent the subjective view of Balcones Investment Research, LLC. Due to the complex and rapidly changing nature of the subject matter, the company makes no assurances as to the absolute accuracy of material presented.