The Bot Brief
"There is no force on earth more powerful than an idea whose time has come.'
- Victor Hugo
Bots in The News: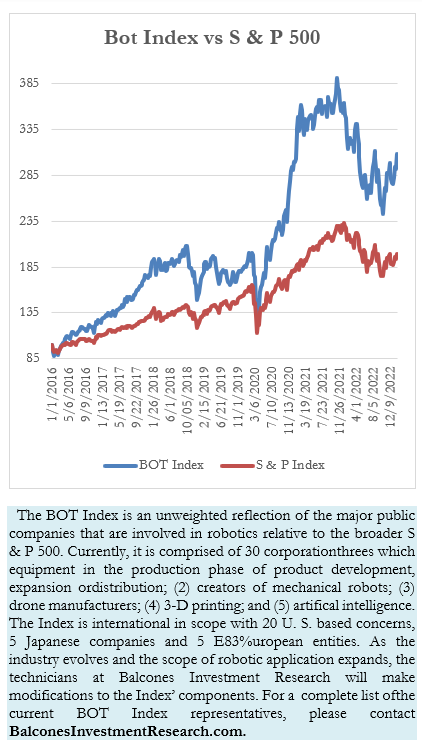 The Bot Index handily beat the weekly results of the S & P 500. Due to five components having double digit increases, the Bots gained 5.35%, more than doubling the return of the broader average.
By far the best performance was turned in by Tesla whose volume on Friday was 305,632,100. The trading volume surpassed anything in recent history and more than double recent trading patterns. The stock gained 33.35% for the week and is up 75% since its low in early January. Accounting for the gain was the 31% increase in 4th quarter deliveries following the company's vehicle price reductions. Elon Musk expressed his very favorable outlook for the company in 2023 following its earnings and revenue beating analysts' expectations.
NIO Inc. gained 14.81% somewhat in sympathy with Tesla's surprise increase in earnings.
NVIDIA Corp. rose 14.16% as the prospects for the chip company seem to be on the mend. New AI applications are stimulating demand for the company's graphic chips. Citigroup Inc. estimated that rapid growth in ChatGPT usage could result in sales for Nvidia of $3 billion to $11 billion over 12 months. The stock has been under a cloud (pun intended) as chip demand has been faltering, however, newer applications seem to favor the power of NVIDIA.
Oceaneering International gained 11.33% and 3D Systems' 13.86% uptick round out the double digit increases for the week.
Yaskawa Corp. rose 6.40% for the week on top of 7.07% and 8.73% increases in consecutive weeks.
The only notable loser was Faro Corp. who fell 1.83%. This decline follows an 18% slide in the previous week as investors expressed concern over dilution from a convertible debenture offering.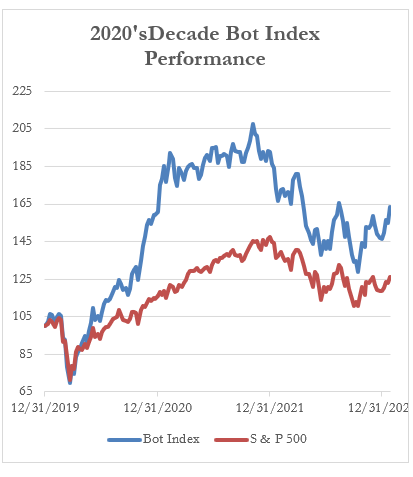 More Investment Options in Robotics:
When Balcones Investment Research created an index to provide the Bot Brief's readers with an idea of how robotic stocks compared with the broader indices, there was only one mutual fund devoted to robotics. Robo Global was created in 2013 and has been interviewed several times by the Bot Brief. As granddaddy of the funds with solely a robotic/AI orientation the fund has gained over $1.2 billion in assets.
Over these past seven years, however, a number of mutual funds and exchanged traded vehicles have been funded. In 2016 GlobalX Robotics and Artificial Intelligence fund has attracted $1.35 billion. Two newer entrants into the field were funded in 2018. IShares Robotics and Artificial Intelligence ETF has reached $231 million while First Trust NASDAQ Artificial Intelligence Fund attracted $193 million.
The growth of assets within these funds are certainly a testimony of the attractiveness of the industries associated with the Robotic Revolution. As institutional investors like to say, "This investment strategy has legs." Meaning it should be a buy and forget investment style that will perform well over a long time.
Member: American Economic Association, Society of Professional Journalists, United States Press Association. Institute of Chartered Financial Analysts, Robotic Industries Association, Member IEEE.
The Bot Brief is a weekly newsletter designed for economists, investment specialists, journalists, and academicians. It receives no remuneration from any companies that may from time to time be featured in the brief and its commentaries, analysis, opinions, and research represent the subjective view of Balcones Investment Research, LLC. Due to the complex and rapidly changing nature of the subject matter, the company makes no assurances as to the absolute accuracy of material presented.