The Bot Brief
"There is no force on earth more powerful than an idea whose time has come."
- Victor Hugo
Bots In the News: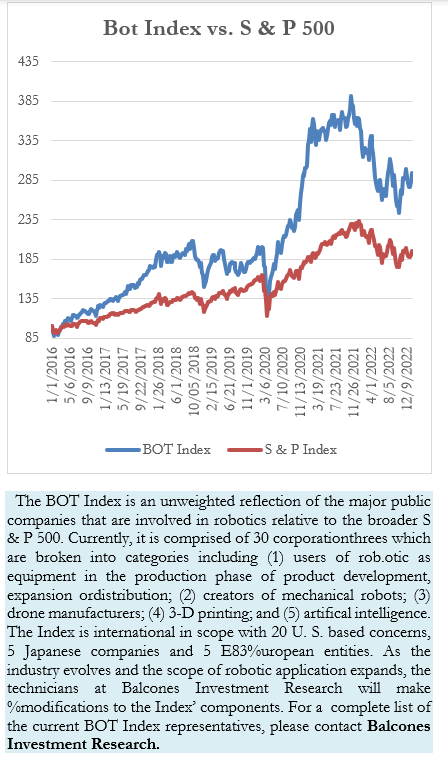 Six of the thirty components within the Bot Index increased their worth by double digits in last week's trading. Consequently, the Bots rose 4.39%, beating the broad market by 172 basis points for the second week in a row. The best performance was turned in by the low-priced component Accuray Inc. who increased 14.42%, followed by the 14.34% jump in another low-priced issue – 3D Systems. Other major gainers include NIO Inc. (+13.99%), NVIDIA Corp. (+13.73%), Faro Inc. (+10.52%) and Oceaneering Inc. (+10.23%).
The weakest performers again included several of the defense corporations. Northrup Grumman was the weakest of the four major producers of armaments with a decline of 11.51%. Lockheed Martin fell 4.95%, Raytheon Technologies slid 3.69% and Intuitive Surgical off 4.25%.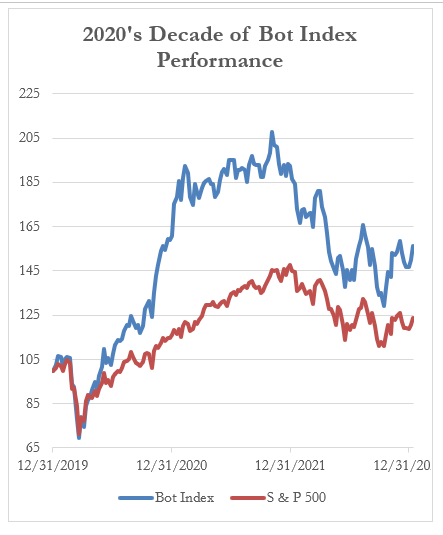 Hydrogen and eVTOL Redux…the New Elon Musk??:
The Bot Brief has devoted considerable ink on hydrogen as a potential raw material in the production of clean energy. Many misgivings and hyperbole have accompanied the machinations of scientists and engineers who have 'developed' an answer for fusion energy production. In the latest issue from the IEEE Spectrum Magazine an article entitled Making Green Hydrogen a Reality Down Under, the writer reviewed Australia's recently enacted climate action law that predominantly features hydrogen power.
A couple of Australian conglomerates are making headlines with their focus on the production of green hydrogen. Arc Energy is planning on using water's hydrogen employing electricity from a solar power plant. The initial use will be in trucks that are currently involved in the transportation of zinc to port from the refinery. However, the second stage of the project is more ambitious utilization of clean wind power to produce exportable green hydrogen to energy hungry Asia and Europe by 2030.
Another Australian effort, by Fortescue Metals Group intends to invest $6.2 billion to produce 15 million tons also by 2030. Investments have already been made in solar and wind turbines to provide the energy required for the fusion technology conversion into hydrogen. These are impressive goals but, if achieved, could change the face of energy production worldwide.
The second article in Spectrum involves another futuristic goal – that of vertical takeoff and landing vehicles to overcome current land transport. Over the past several years an individual named Marcus Leng has developed a number of prototypes eVTOL's. Starting in 2010, Leng began building single pilot flying craft in his basement. Along the way, Leng had to build virtually all the components of his vehicles from scratch. With outside funding his OPENER's Blackfly is attempting to circumvent current FAA regulations by identifying it as an ultralight aircraft, thus avoiding piloting and code restrictions. The goal is to ultimately create a reliable vehicle to quickly move from one location to another without extensive pilot training and with a high degree of safety. If successful, the price of the eVTOL could approach that of a SUV, bringing an new element to personal transportation.
Member: American Economic Association, Society of Professional Journalists, United States Press Association. Institute of Chartered Financial Analysts, Robotic Industries Association, Member IEEE.
The Bot Brief is a weekly newsletter designed for economists, investment specialists, journalists, and academicians. It receives no remuneration from any companies that may from time to time be featured in the brief and its commentaries, analysis, opinions, and research represent the subjective view of Balcones Investment Research, LLC. Due to the complex and rapidly changing nature of the subject matter, the company makes no assurances as to the absolute accuracy of material presented.